This site is supported by our readers. We may earn a commission, at no cost to you, if you purchase through links.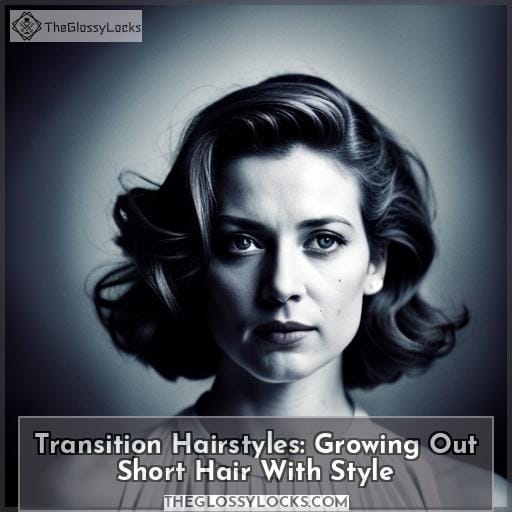 As the saying goes, A change is as good as a rest – and that couldn't be truer for those looking to transition hairstyles for growing out short hair. If you're ready to take the plunge from your pixie cut or bob but feeling overwhelmed by what lies ahead, don't fear! With some patience, dedication, and advice from top stylists on how to grow out short hair with style, you'll have long locks in no time.
Whether it's choosing the right styling products or mastering hairstyles that work with shorter strands – we've got all of your questions answered here.
Key Takeaways
A change is as good as a rest for transitioning hairstyles.
Regular nape trims every four weeks for maintenance.
Maintaining hair health through trimming and conditioning.
Using accessories like headbands, scarves, and clips.
Emma Stone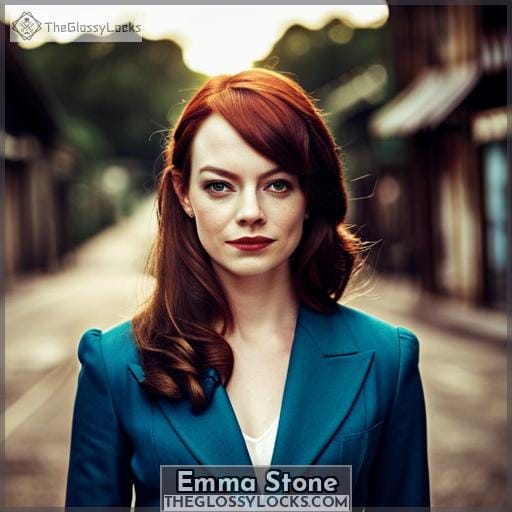 Embrace Emma Stone's signature look with treatments like Peter Thomas Roth Hair to Die For. She suggests thinning ends with a razor and adding choppy layers for a grown-out bob.
When transitioning from short pixie cuts or bobs, use foam rollers or curling irons for waves. Secure grown-out hair behind ears if needed. Create darker ombrés around the face frame during straight hair grow-outs.
Curl small sections of shorter hairstyles when growing out for extra volume and texture. Slick back structured waves to transition between pixies and bobs. Let natural curls embrace growth to bring life into jaw-length cuts.
Slick your long pixies straight back and add beachy texture to edgy tousled looks in grown-out bobs.
All these tips help you maintain patience throughout your journey of growing out short hair!
Lily Collins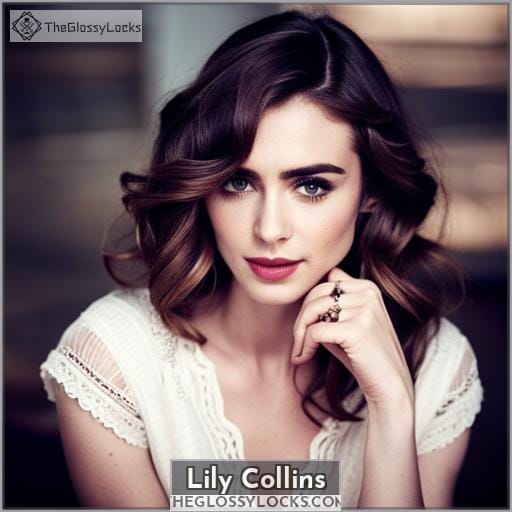 For Lily Collins, razor-thin ends and choppy layers can create a grown-out bob that'll turn heads. Styling bangs away from the face with a center part will blend seamlessly for an effortless updo. To add drama, create a darker ombré on the hair framing one's face for extra dimension while growing out straight hair.
To complete her signature style, pile longer locks loosely on top of the crown to create an easy yet flirty 'do perfect for any occasion! During transition hairstyles, keep in mind some hair growth tips.
Regularly schedule nape trims every four weeks and redistribute bulk by changing your part as you grow out short hair.
Additionally, experiment with texture using curling irons or flat irons to add direction to Lily's style without compromising the overall health of her tresses.
Alexa Chung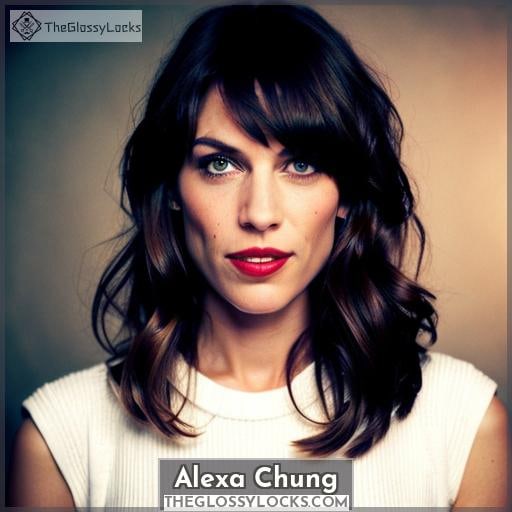 Alexa Chung is one of the trendiest celebs when it comes to transitioning short hair into a grown-out bob. Her signature style starts with bangs swept away from her face and parted in the center for a seamless blend.
To keep her look fresh, she opts for texture with styling products that add volume and hold while protecting against heat damage.
It's also important to remember that growing out your hair isn't overnight; depending on your hair growth rate, expect six months to a year before you reach medium length bob status! In addition, frequent trims are key during this transition period as longer locks can be prone to split ends if not properly maintained.
An interim style like Alexa's grown-out fringe or modern shag could provide just enough change without sacrificing too much length until you're ready for something more drastic — like an edgy pixie or blunt cut bob.
| Style | Description | Hair Type |
| --- | --- | --- |
| Modern Shag | Blended layers & angled side fringes | All Hair Types |
| Grown Out Fringe | Side swept bangs w/ volume at crown | Medium Length Curly / Wavy |
Jennifer Hudson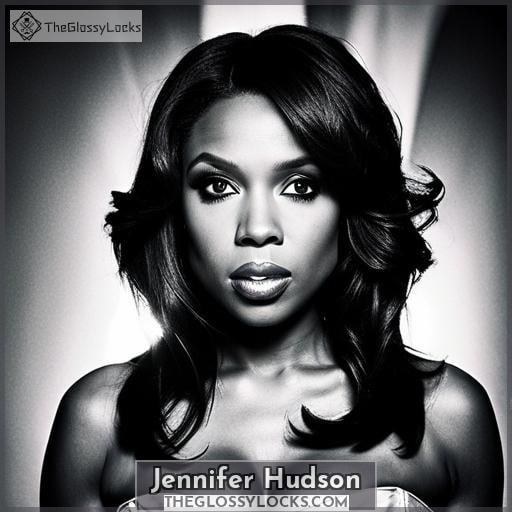 Try Jennifer Hudson's slicked back and tucked behind the ears look for a glamorous, girly style. For instance, get an instant go-to blowout with edge control products like mousse and gel to add texture.
Your journey towards beautiful, healthy locks doesn't have to be daunting—try experimenting with styles that work best for your personal taste while allowing growth potential through strategic haircare practices like gentle massages, deep conditioning treatments, and low heat settings when styling away from home using tools such as flat irons and curling wands.
Michelle Williams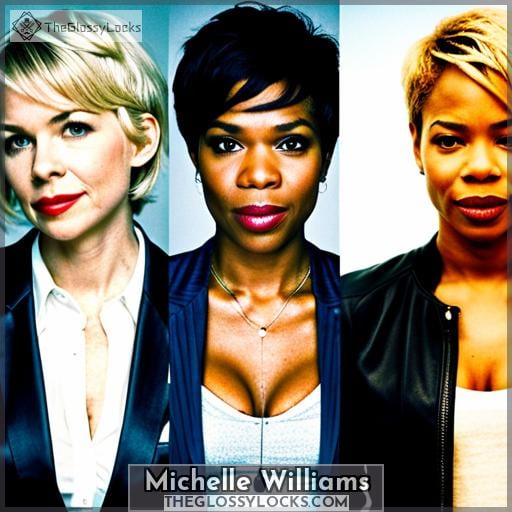 Secure your grown-out hair with bobby pins behind the ears, as Michelle Williams does, for a girly look. The actress' iconic hairstyles have undergone numerous changes over the years. Her red carpet looks often feature tucking her locks back to show off her face and create a narrower silhouette.
For those growing out their short hair like Michelle Williams did, consider trying an interim style such as curtain bangs or a modern shag or bixie to bridge that gap between short and long lengths while providing control of bulk for balance.
To keep it healthy during this transition phase, she recommends regular trims every four weeks – ¼ to ½ inch at first, then more sparingly later on – plus using volumizing styling products and lower heat settings when applying treatments like curling irons or flat irons for direction and texture without further damage from excessive heat styling.
With patience, you can achieve effortless chicness!
Charlize Theron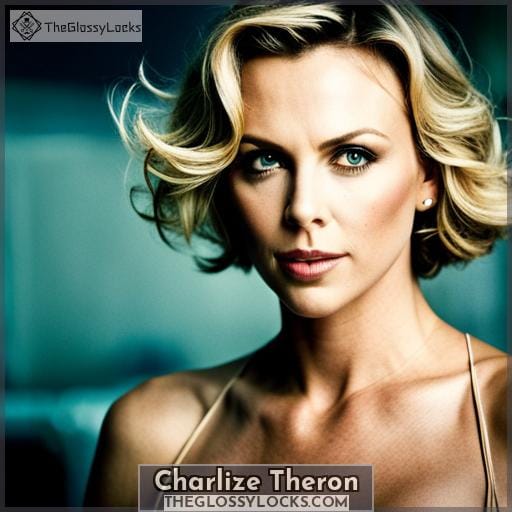 Rock a statement look with Charlize Theron's trick of adding waves with foam rollers or a curling iron for a too-long pixie style.
For hair growth progress, start by understanding the grow-out timeline and schedule regular nape trims every four weeks to maintain shape.
To keep up appearances during the transition, try vintage headbands. Curtain bangs are also a great option as they are low maintenance and trendy for longer hair.
A modern shag is another interim style that can be chic between short and long lengths!
When styling your tresses, add direction and texture with heat tools while avoiding excessive use to prevent further damage. For best results, incorporate volumizing products for control. Additionally, scalp massage or brushing can promote healthy growth.
Finally, don't forget accessories like bobby pins or scarves, which can elevate any look while growing out your locks!
Anne Hathaway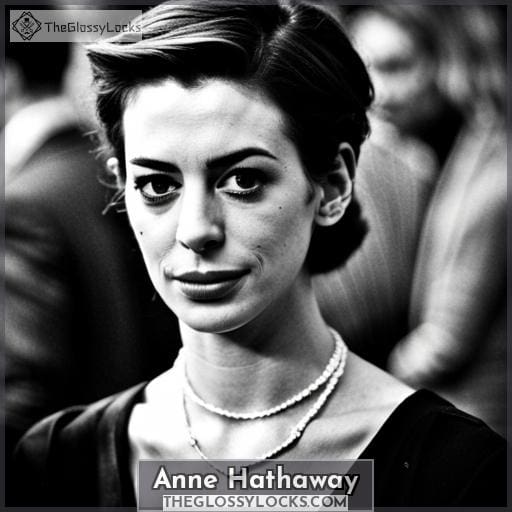 Anne Hathaway's hairstyle is perfect for those in the transition from short hair to long. She opts for a look that emphasizes sculpting edges while growing out her locks. During this process, Anne adds a darker ombré around her face to frame it beautifully as she grows out her hair.
She also creates an easy yet flirty updo by piling loose strands on top of the crown when needed – ideal if you're trying to avoid sloppiness during grow-out! Additionally, Anne uses curling sections with a curling iron or flat iron to add waves and texture throughout the mane.
Transition hairstyles don't have to be boring; follow in Hathaway's footsteps and show off your wild side!
Aubrey Plaza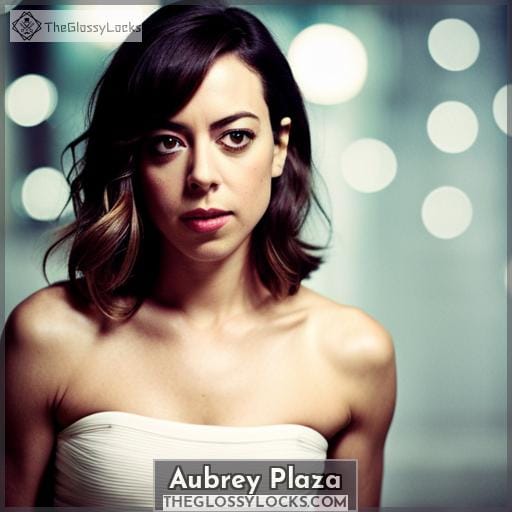 Create a show-stopping look with Aubrey Plaza's signature ombré effect, perfect for adding drama to your grown-out bob. It's like painting sunbeams over the top of it. Create a darker ombré for face framing during straight hair transition.
For an easy updo, pile longer hair loosely on the crown and secure it behind the ears if needed. Utilize volumizing products and strong hold styling gels to keep everything in place throughout the day without sacrificing the health or moisture balance of your locks.
Accessorize with headbands, scarves, or clips, and experiment with different parts.
To maintain healthy locks, try using natural oils such as coconut oil. It helps nourish the scalp and reduce split ends that can occur when transitioning from short to long hairstyles, especially if heat is used often during this process.
Get creative by finding helpful resources via social media platforms like Instagram.
With patience and regular trims every 4 weeks, you are sure to create an effortless yet timeless look that embodies both strength and femininity at its finest – just like Aubrey Plaza does so effortlessly!
Danielle Brooks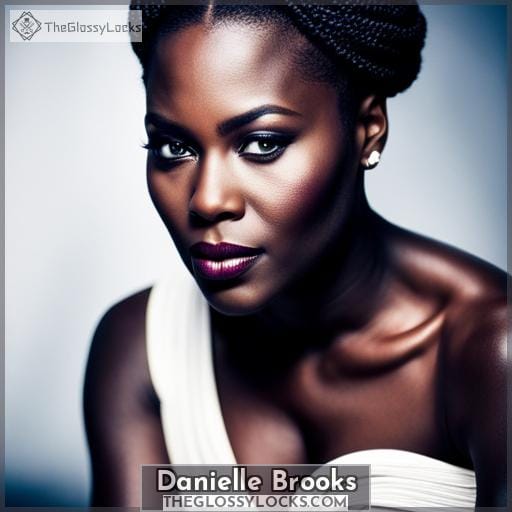 Transform your look with Danielle Brooks' simple updo by piling longer hair loosely on the crown. This flirty and fun style is perfect for those who are growing out short hair and want to maintain a polished appearance while embracing texture.
To achieve this transition hairstyle, expect a timeline of six months to one year when transitioning from pixie to bob length cuts. Regular nape trims every four weeks will help reduce bulkiness in shorter lengths, providing balance and structure during growth phases.
To create this look at home, start by using volumizing products throughout dampened locks. Then, style your hair with heat tools or let it air dry. If desired, add beachy texture for a more relaxed look.
Alternatively, you can keep it sleek by slicking back strands away from your face and tucking them behind your ears as needed.
To secure loose ends, use bobby pins – no curling iron required! For added flair, incorporate headbands or scarves into the mix. These accessories not only provide an extra boost of confidence during grow-out periods but also add a stylish touch to your overall look.
Emma Roberts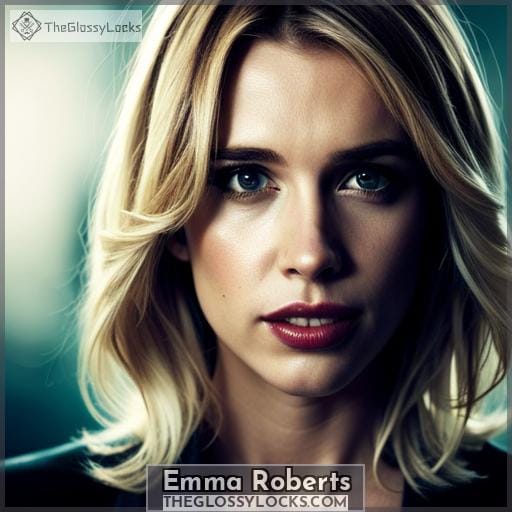 Experiment with Emma Roberts's style and curl small sections to add texture during your grow-out.
Scalp massage is key in transitioning from short hair to longer locks, as it promotes healthy growth.
Incorporate a fortifying serum into your routine for added nourishment of the scalp and follicles.
Split ends should be trimmed regularly; no more than ¼-inch every 8 – 12 weeks will do the trick without sacrificing length!
Accessorize with barrettes, bobby pins, headbands, or scarves for an extra touch of flare while growing out short hair styles like pixie cuts or lobs – all that's needed is some patience!
Low heat styling tools can help create waves if you desire more texture – but beware not to overdo it as too much heat can cause damage.
Don't forget about conditioner either; find one specifically designed for shorter tresses to keep them hydrated and strong throughout this transition phase so they'll look their best when they reach their desired length!
Know the Timeline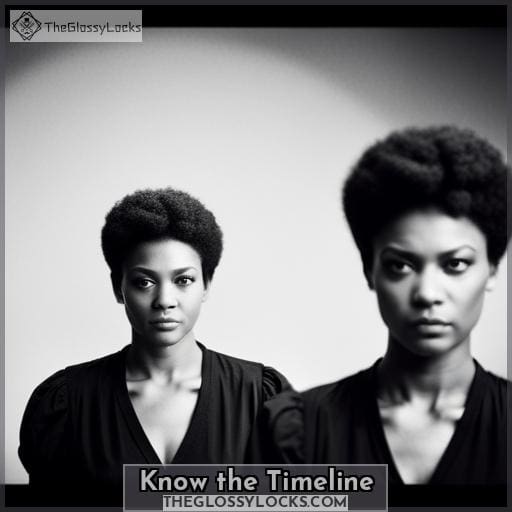 Expect a 6-month to 1-year journey when growing out your short hair. To maintain a polished look, schedule regular nape trims every four weeks and experiment with changing the hair part for balance. Incorporate accessories like headbands or barrettes to elevate style while transitioning from a pixie cut to a bob.
When it comes to product choices, use styling products that provide control and volume, as well as scalp care essentials such as fortifying serums and massage techniques for healthy growth.
Hair health should be prioritized too. Limit heat styling on days you don't wash your hair to avoid further damage done by hot tools.
Get Regular Trims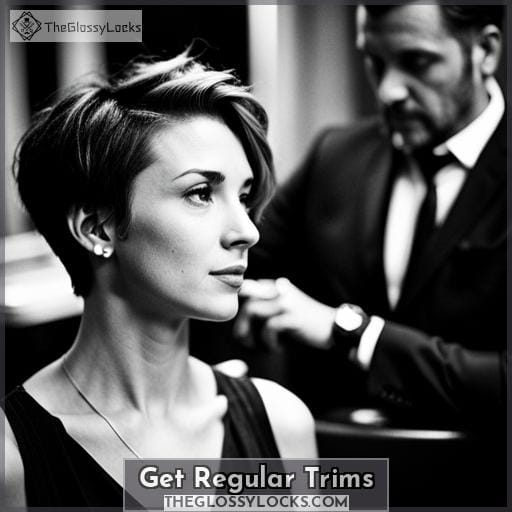 Schedule regular trims every four weeks to keep your hair looking polished. This is essential when growing out short hair, as it helps reduce split ends and keeps the length of your style balanced. Consider incorporating other treatments like facial masks and scalp scrubs into your routine for added nourishment.
Also, try diet improvements or home remedies that can help promote scalp health. Switch up shampoos and conditioners to thicken aging hair or redistribute bulk if necessary.
Regular trims are key to a successful grow-out period. They will make sure you don't get stuck in an awkward transition phase! If you want sleek bangs with wide headbands or curtain bangs for longer locks with fringes, or even modern shags during the bridge between lengths, getting regular haircuts is paramount in achieving your desired look! Ask a stylist about the best products for transitioning strands so that no matter how long your journey is from a pixie cut to a bob (or beyond!), you'll enjoy beautiful results along the way!
Redistribute Bulk With Different Parts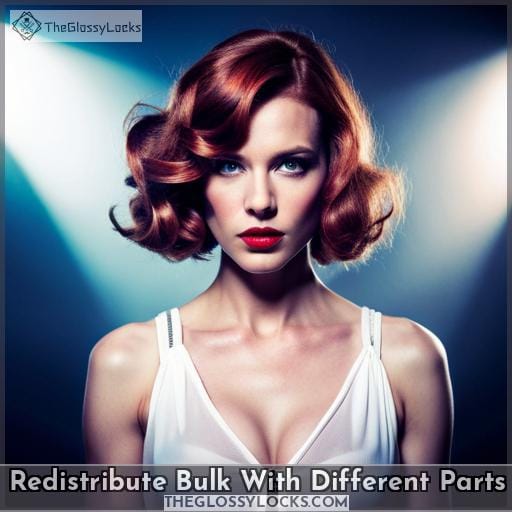 Try changing your part like a chameleon changes its color to redistribute bulk and add balance to your growing out style.
Bring in the drama with different parting techniques. Opt for face framing parts that slim the silhouette when paired with longer hair.
Get creative by adding volume at the crown. This will help balance out any excess bulk on one side of your head.
And don't forget about stimulating hair growth. Massage your scalp several times a week using circular motions. Additionally, work natural oils, like coconut oil, into your strands for added nourishment.
Experimenting with different parts can really enhance transition hairstyles while you're growing out short hair.
Tuck Behind the Ears for a Sleek Look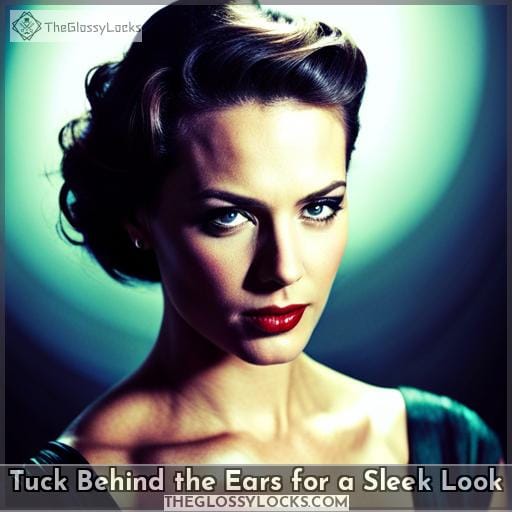 Tuck your hair behind your ears for a sleek and polished look to frame the face during the grow-out period. This classic style looks great with elegant earring combinations, stylish sunglasses trends, or versatile scarf pairings.
The tuck also works well with natural waves created from transitioning hairstyles for growing out short hair. To achieve this look, create maximum volume at the crown and sides of the head by brushing through damp strands before styling with a product like mousse or gel to hold in place all day long.
If needed, add texture near the ends using a curling iron or flatiron on a low heat setting to keep damage minimal while adding extra body and movement when tucked back behind the ears.
Complete this timeless style by wearing classic hat styles such as fedoras that can be easily worn over the tucking hairstyle for added fashion flair throughout the summer months.
Master Hairstyles for Short Hair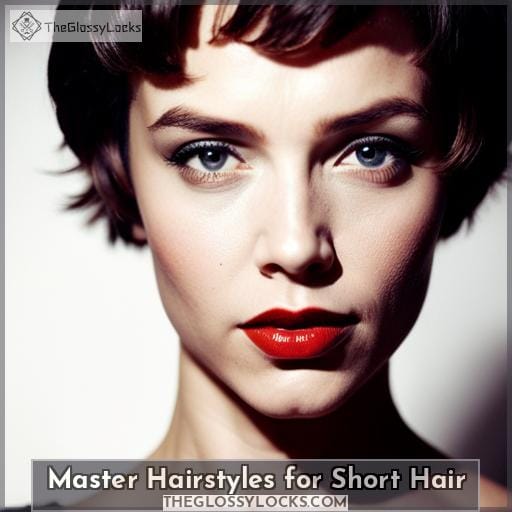 As you grow out your short hair, there are plenty of styling options to help make the process smoother. Headbands, scarves, and clips can all be used as a way to add texture or flair to your look while keeping it polished and professional.
Headbands, Scarves, and Clips
You can take your style game up a notch by accessorizing with headbands, scarves, and clips – like pieces in a fashion puzzle. Vintage headbands give short hair an elegant look while thinning out the sides or back of the hair slightly.
Scarf styling is also great for those transitioning from short to long hair as it allows you to easily adjust the length for more versatility.
Clip accessories are perfect if you want something that adds texture without heat damage and gives off effortless chicness.
Short-haired women have plenty of trendy hair adornments at their disposal. Play around with them until you find what works best for your current hairstyle!
Bouffants, Twists, and Braids
Create a modernized look with bouffants, twists, and braids for growing out your short hair. Bouffant variations are perfect for adding volume to shorter lengths; use light-hold gel to keep the style in place.
Twisted updos create an effortless yet elegant option with plenty of texture when you're growing out short hair.
Braided elegance is great if you prefer more structure. Try textured braid styles or stylish braided twists using waves from curling sections around the face.
To achieve a rounded shape that won't appear too flat on top, apply mousse before washing hair and blow dry upside down in sections.
With these hairstyles at your disposal, there's no need to sacrifice style during the transition!
Use the Right Styling Products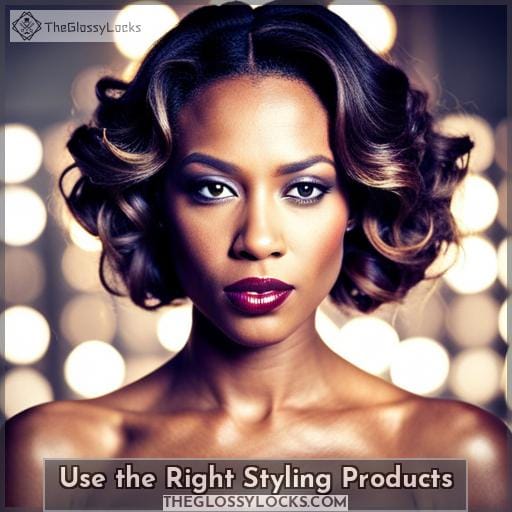 When it comes to transitioning from short to long hair, the right styling products are essential. You can use volumizing techniques with conditioners and mousses to enhance your hair's texture as you grow out your locks.
Scalp massage is also key for promoting growth; try using a serum that fortifies follicles for an extra boost.
When shopping for shampoos and conditioners, look for moisturizing formulas that keep strands hydrated while growing out short styles.
Vintage accessories like headbands or scarves add elegance without too much fussiness when transitioning hairstyles—plus they work great on day-old curls!
To get creative without heat styling tools, opt instead towards braids, twists, or buns which all help create beautiful looks during the awkward stages of growing out shorter lengths.
Make sure you prioritize patience during this process; it takes time but one way or another will lead you down the path of lusciously long locks!
Add Direction and Texture With Curling or Flat Iron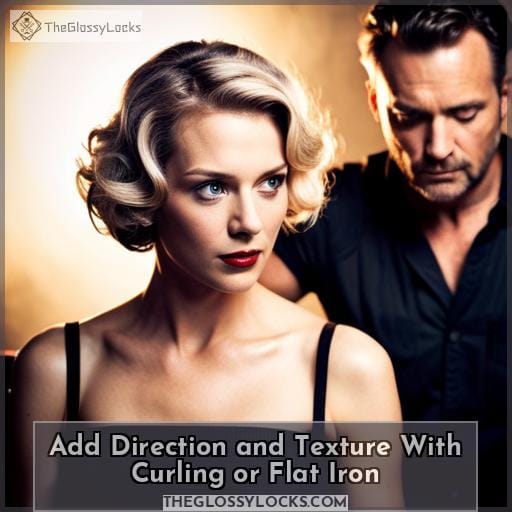 Try creating some extra body and movement with a curling or flat iron to add texture to your look. Curling techniques can create a soft, wavy shape for those transitioning from short hair, while the use of a flat iron can provide sleekness and definition.
Start by sectioning off smaller subsections of the hair before working on each one individually for better control. As you curl or straighten each section, lightly spray hairspray onto it so that it holds its shape longer.
To get more texture ideas for growing out your short hairstyle, search Instagram hashtags like #texturedhairideas.
Reduce Washing Frequency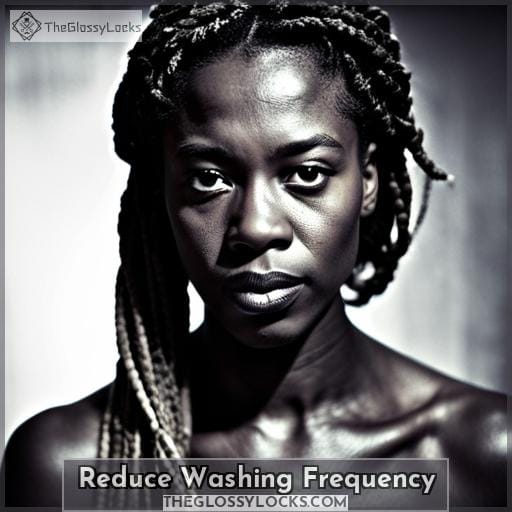 Reduce the frequency of washing your hair to maintain a polished look and avoid excessive fluffiness. When growing out short hair, resist the urge to wash it too often as this can lead to further damage from over-shampooing and drying out.
Instead, opt for weekly washes using shampoos and conditioners that nourish your scalp instead of stripping away its natural oils.
For added benefits, incorporate a scalp massage into each wash session or try an invigorating serum designed specifically for follicle health like onion juice or vitamin treatments before styling with heat tools such as flat irons or curling wands.
Invest in quality accessories – barrettes, bobby pins, and headbands – to elevate any vintage style you're aiming for while transitioning from short to long locks.
Promote Hair Growth With Scalp Stimulation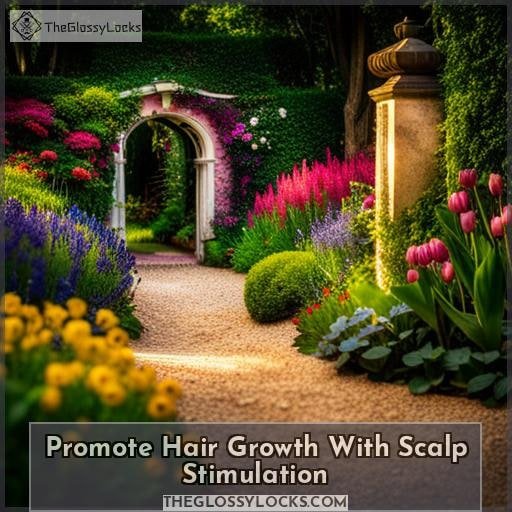 When it comes to growing out short hair, scalp stimulation is key. A scalp massage and a fortifying serum can help promote healthy growth while transitioning from your current style to something new.
Scalp Massage
Give yourself a scalp massage to stimulate hair growth and keep your locks looking healthy! Massaging your scalp has a variety of benefits, both for the health of your hair and stress relief.
The techniques used can range from fingertip massages to specialized tools like brushes, combs, or rollers. When done correctly, these methods will help improve blood circulation in the scalp, aiding in hair growth while also relieving tension headaches and reducing any built-up stress.
Scalp massages are especially beneficial when transitioning from short to long hairstyles as they can promote stronger roots, which lead to thicker strands going forward.
Scalp and Follicle Fortifying Serum
To fortify your scalp and follicles, use a serum specially formulated with nourishing ingredients.
Here are some benefits of using this serum:
Scalp health is improved through natural oils in the formula.
Follicle nourishment helps to reduce split ends.
Hair growth is stimulated for longer styles.
Hair care routine becomes easier with no excess styling needed.
This light yet effective product makes caring for short hair as it grows out simpler and more straightforward than ever before—no need to worry about how Michelle Williams tucks her grown-out hair behind her ears anymore!
Make scalp stimulation part of your regular routine and enjoy fuller, healthier locks as you transition from pixie to bob or beyond!
Maintain Hair Health Through Trimming and Conditioning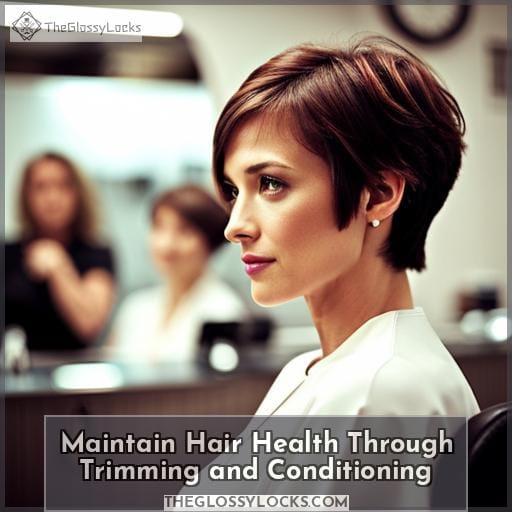 Maintain hair health with regular trims and conditioning treatments to keep your strands looking their best. A trim every 8-12 weeks can help prevent split ends that could damage the rest of your hair.
Consider scalp massage as part of a weekly routine. It not only feels great but also helps promote growth by stimulating blood circulation to follicles. Additionally, using products designed specifically for promoting hair growth can be beneficial in nourishing the scalp and roots.
Remember styling essentials such as volumizing products or lower heat settings for curling/flat ironing to create shape while avoiding further damage.
Conclusion
The journey of growing out short hair can be intimidating, but it doesn't have to be. With the right tools and tips, you can turn the transition into a fashionable and fun experience. Utilize the right products, get regular trims, and master the art of transition hairstyles for growing out short hair.
From headbands, scarves, and clips to sleek bangs and bobs, you can create a variety of looks that will keep your hair looking fresh and healthy. Whether you take it slow with a modern shag or jump right in with a bixie, growing out short hair can be an exciting and stylish process.