This site is supported by our readers. We may earn a commission, at no cost to you, if you purchase through links.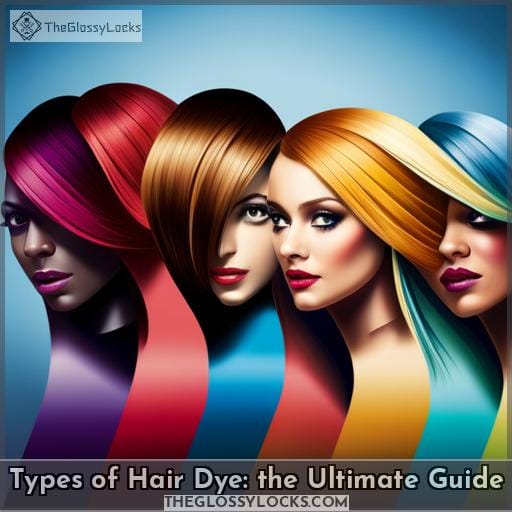 Switching up your hair color can be like opening a whole new wardrobe of possibilities. From the subtle to the daring, there's an array of options when it comes to types of hair dye – but which one is right for you? If you're looking for guidance on all things related to temporary and permanent colors, semi-permanent dyes, root concealers, or henna treatments – then this ultimate guide is here to help.
Here we'll explore each type of hair color available so that you can make informed decisions about what best suits your individual look and style goals.
Key Takeaways
Temporary hair dye offers quick results and a variety of colors, but it can be messy to apply and may not provide full head coverage.
Semi-permanent hair dye can last up to 8 washes and offers vibrant shades without causing damage, but it's important to consider hair type and use sulfate-free products for best results.
Demi-permanent hair dye lasts up to 8 washes, covers gray hair, and is gentle on the hair, but pre-lightening may be necessary for better coverage and it does not require bleach.
Permanent hair dye provides longer-lasting results and vibrant colors, but it contains chemicals and requires careful consideration of the brand and its composition.
The Different Types of Hair Dye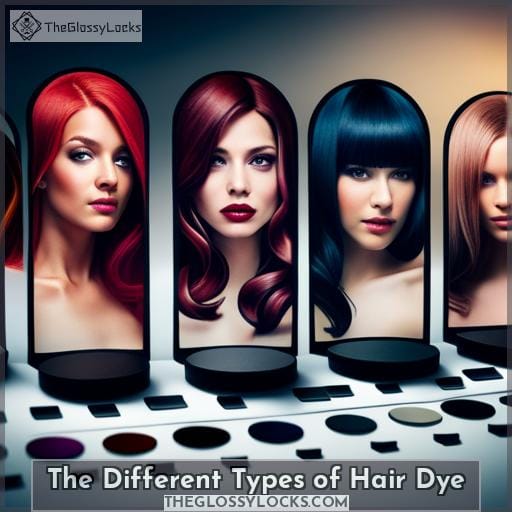 You have a range of options when it comes to hair coloring, from temporary washes to permanent dyes; you can even experiment with henna and glosses for unique looks.
Temporary dye effects are quick-acting, but don't last long.
Semi-permanent benefits include no ammonia or peroxide, so they won't damage your hair too much while lasting around eight washes.
Permanent color penetrates deeply, providing weeks or months of coverage, but contains peroxide, which can be damaging over time.
Root concealer products come in multiple forms, from temporary sprays to permanent solutions, depending on what suits you best!
Henna provides a red hue plus shine while being hypoallergenic too – perfect if chemicals irritate your scalp!
Hair gloss enhances current color quickly and easily at home, giving smooth shiny locks – bonus!
With the right knowledge, these types of hair dye offer liberation, power, and mastery within reach – go explore yours today!
Temporary Hair Color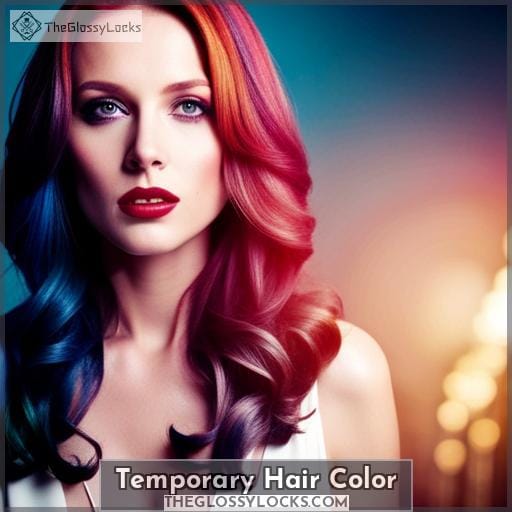 Are you looking to experiment with your look? Temporary hair color is a great way to try out different colors without the commitment of permanent dyes. With its easy application and quick washout, temporary dye offers advantages like experimentation and no ammonia or peroxide; however, it can also be messy and may not provide full coverage for those who want an all-over look.
Pros and Cons of Temporary Hair Color
Unleash your inner artist with temporary hair color; it's a great way to experiment and have fun without committing to a permanent change. Pros of wash-out dyes include: no commitment, quick results, a range of colors and tones available for experimentation options.
Cons can be a messy application process, plus it is not ideal for full head coverage like permanent dyeing.
Popular Brands of Temporary Hair Color
Make a statement with Manic Panic Rock Roll Red Hair Dye or ACRE Cold Process Shampoo for vibrant, temporary hair color that lasts.
Application is simple – just follow instructions carefully to ensure maximum results and safety. When comparing permanent vs. temporary colors, bear in mind longevity. Semi-permanent dyes can last up to 8 washes while more durable options may take longer before requiring reapplication.
With the right brands chosen for you, enjoy beautiful hues without compromise!
Semi-Permanent Hair Dye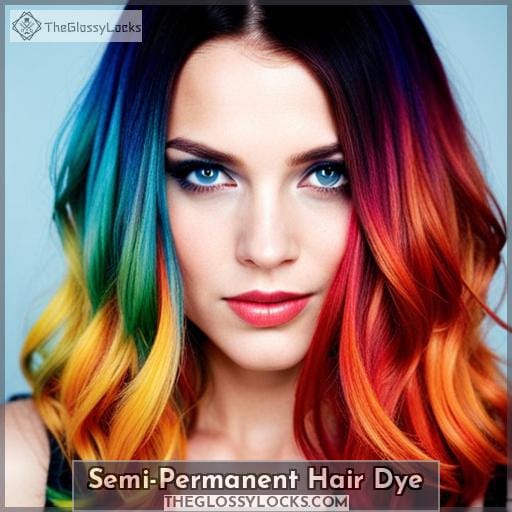 If you're looking for a more subtle hair color change, semi-permanent hair dye may be the perfect choice. Offering longer-lasting results than temporary dyes, it provides excellent gray coverage and adds vibrancy to existing colors without damaging your locks.
Benefits of Semi-Permanent Hair Dye
Discover the benefits of semi-permanent hair dye, from longer-lasting color to experimenting with shade and hue without commitment. Semi-permanent dyes last up to eight washes, offering vibrant shades that won't damage your locks like permanent options.
This type of hair dye also helps preserve color for existing highlights and lowlights as they become more subtle over time instead of fading quickly. With proper care after application, you can enjoy semi-permanent hues that don't require frequent touch-ups but still offer great coverage for grey hairs or creative roots showing through between colors.
So if you're looking for a long-lasting option with versatile vibrancy, then semi-permanent hair dye is definitely worth considering!
Tips for Using Semi-Permanent Hair Dye
When using semi-permanent hair dye, make sure you take into consideration your hair type and texture to ensure the best results. For longer-lasting color, pre-lightening is recommended for maximum vibrancy. This will also help reduce fading over time.
To maintain vibrant color between applications, try using a mild shampoo and avoiding products with sulfates or other harsh chemicals that can strip away the dye prematurely.
If you're looking for more permanent options, there are many different types of dyes available, including demi-permanent and permanent varieties. These options offer increased coverage but require more maintenance than semi-permanent colors do.
Consider all your options carefully before deciding on one to determine which would be most suitable for your needs in terms of longevity as well as the desired outcome!
Demi-Permanent Hair Dye

If you're looking for a hair dye that offers more coverage and longer-lasting results than temporary options, then demi-permanent hair dye is the way to go. This type of coloring option penetrates the outer layers of your hair shaft, providing semi-permanent color that usually lasts 8 washes or more.
It also contains no ammonia or peroxide, which makes it gentle on your locks while still giving great results.
What Sets Demi-Permanent Hair Dye Apart?
You'll love the versatility of demi-permanent hair dye – it offers more coverage than temporary dyes but without the commitment of permanent color. It's a great choice for those wanting to try out new colors, cover gray hairs, or simply refresh their existing shade.
With no ammonia or peroxide needed for application and easy maintenance tips to keep your hue looking vibrant in between salon visits, you can enjoy beautiful hair with minimal effort! Demi-permanent dye also allows you to correct mistakes from other types of coloring treatments like highlights while still allowing natural movement and shine due to its translucent nature.
And because this type of dye works on all different types and textures of hair, there is something for everyone when it comes to trying a new look! So take advantage today and explore the endless possibilities that come with using demi-permanent hair dyes – you won't regret it!
How to Use Demi-Permanent Hair Dye
To get the most out of demi-permanent hair dye, start by pre-lightening your locks to level eight blonde or lighter.
Here are three key benefits:
Versatility – Demi-permanent color is versatile and can be used to blend two colors together for a natural look.
Color Maintenance – It provides better coverage than semi-permanent options, so you don't need frequent touch-ups.
No Bleach Needed – Unlike permanent dyes, it doesn't require bleach, which means less damage to your hair over time!
With its gentle formula and long-lasting results, demi-permanent dye gives you more control over color blending and maintenance. It provides all the benefits of a longer-lasting option without using harsh chemicals or damaging bleaches.
Permanent Hair Color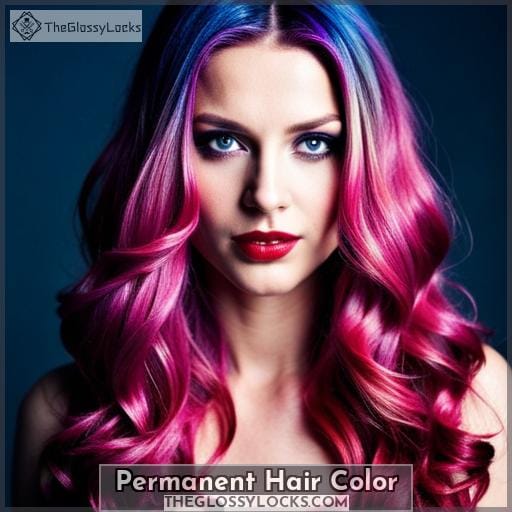 Are you looking to understand the ins and outs of permanent hair dye? Permanent hair dye penetrates deeply into the shaft, creating a longer-lasting look that can last weeks or months. This type of color is achieved through using peroxide, which changes the makeup of your natural color.
Understanding Permanent Hair Dye
Immerse yourself in the world of permanent hair dye to achieve more coverage and longer-lasting results than ever before. Permanent vs semi-permanent dyes differ greatly in their chemical composition, allowing for vibrant color that won't wash away as quickly.
Coloring techniques should be adjusted according to each individual's needs, taking into account long-term care protocols such as proper fade prevention measures and regular touch-ups.
Popular Brands of Permanent Hair Color
Discover the best permanent hair color products from popular brands like ACRE Cold Process Shampoo and Manic Panic Rock Roll Red Hair Dye. Permanent colors provide long-lasting results and a wide selection of shades to choose from, so you can find one that works with your skin tone.
Before applying any product, make sure your hair is properly prepped by washing it thoroughly to remove buildup or oils that might hinder the application process.
Maintenance routines, such as toning, are also important if you want to keep your shade looking its best over time. Consider incorporating henna dye into this routine for added shine and longevity without damaging chemicals or peroxide found in traditional dyes.
With careful preparation, choosing a flattering shade, and following application tips closely, there's no reason why anyone shouldn't be able to rock their perfect hair color every day!
Root Concealer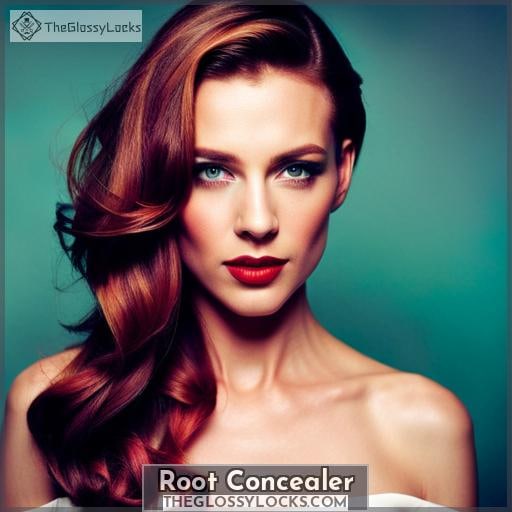 Root concealing is a great way to keep your hair looking natural and vibrant between dyeing sessions. It comes in many different forms, so it's important to choose the right one for your hair type and desired look.
Root concealer can be a temporary washout product or something that lasts longer; either way, it should cover gray roots seamlessly without damaging the underlying color or texture of your hair.
What is Root Concealer?
Root concealer is a type of hair product that helps cover up gray roots and extend the life of permanent dye jobs, allowing you to rock vibrant color without regular touch-ups.
For instance, imagine Sarah, who uses root concealer every few weeks to keep her bright red locks looking fresh!
Root touch up can be done at home or in salon settings with options ranging from temporary solutions like root sprays and fun colors for rebel hair colors to professional base color applications.
Hair bleach may also be necessary if gray coverage is desired; however, this process should not be attempted without knowledge as it can cause damage if used improperly.
The at-home beauty treatment offers an easy way for anyone wanting to camouflage their roots before choosing a full head dye job, while toners are needed when bleaching goes wrong – turning gray hairs yellow rather than silver.
With the right guidance, products, and techniques, your perfect hue awaits!
Choosing the Right Root Concealer for Your Hair
Choosing the right root concealer for your hair can be a challenge, but with knowledge of temporary and permanent options, you'll find one that works best for you.
Root touch-up sprays are great for covering gray roots or adding vibrant colors to existing strands. For more coverage, try semi-permanent dyes or gradual transition products like demi-color creams.
If you prefer natural solutions, henna provides a reddish hue without harsh chemicals, while glosses enhance current color instantly!
No matter your lifestyle needs, always perform a strand test before application to avoid staining gray hair and ensure the desired result is achieved every time!
Hair Bleach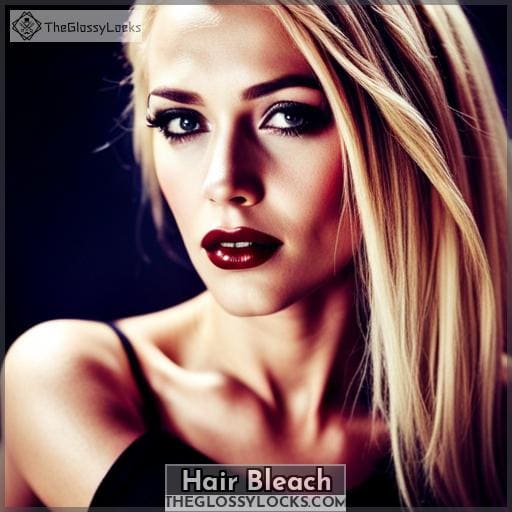 Bleaching your hair is a great way to achieve lighter, brighter colors. However, it can be damaging if done improperly. It's important to understand the purpose of hair bleach and tips for safely bleaching your locks before you begin the process.
The Purpose of Hair Bleach
Unlock the secret to longer-lasting hair color with hair bleach! Bleaching can be a safe and efficient way of lightening your locks, but it's important to understand the process before diving in.
Bleach can cause damage if not used correctly, so always perform an allergy test beforehand as well as a patch test for discoloration. To ensure safety during bleaching, avoid mixing products and follow directions carefully.
Additionally, resist the temptation of over-bleaching or using too strong a formula—this will only weaken strands further and result in breakage. For optimal results when bleaching at home, opt for quality products that are tailored towards your needs.
This could also help reduce potential damage caused by harsh ingredients such as ammonia or peroxide.
Follow these tips to get salon-quality color without putting strain on precious tresses!
Tips for Safely Bleaching Your Hair
Take caution when bleaching your hair, as it can result in dry and brittle strands if not done properly.
Understand the process: Educate yourself on what's involved with a hair bleach process beforehand to ensure you're making an informed decision regarding safety and damage potential.
Avoid over-processing: Be aware of how often you are lightening, as too much processing will cause breakage in the long run.
Use protective products before & after: Use deep conditioning treatments prior to color services. Opt for professional quality brands that contain fewer chemicals or natural ingredients.
Bleach dark colors gradually: Start by applying lighter colors first to reduce the chance of over-processing.
Optimize results with toner: This step ensures silver tones stay cool instead of turning yellowish, which may occur naturally due to oxidation caused by air exposure during lightening processes (especially noticeable among gray hairs).
Following these steps should help prevent any unwanted surprises while achieving beautiful blonde results without compromising the health risks associated with traditional methods used today!
Henna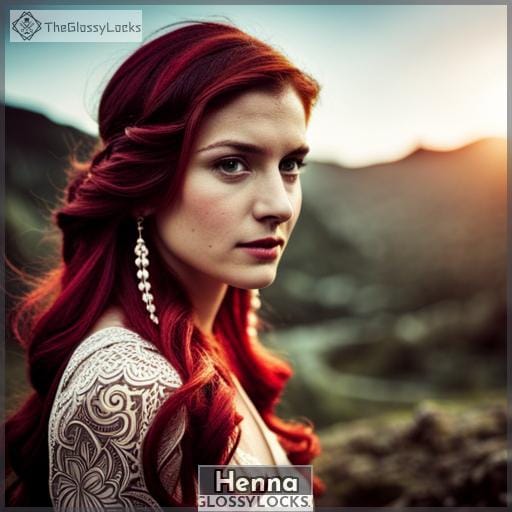 Henna hair dye is a natural alternative to chemical dyes, offering vibrant color and shine without the harsh effects of bleach or peroxide. However, it can be messy and difficult to apply correctly. Knowing how to use henna safely will ensure you get the most out of your coloring experience while avoiding potential damage caused by incorrect application.
Benefits and Drawbacks of Using Henna Hair Dye
Discover the advantages and disadvantages of using henna hair dye to add a vibrant, long-lasting color to your locks. Pros include being vegan and cruelty-free, free from chemicals such as PPD or ammonia, and easy application tips for the best color results.
However, some people may experience allergic reactions. Henna vs traditional chemical dyes can be compared in terms of fading time and effects on damaged hair. While both are semi-permanent solutions that last 4–6 weeks, they differ in their ingredients list.
How to Apply Henna Hair Dye
Applying henna hair dye can help you achieve vibrant, long-lasting color with minimal damage to your locks. Pre-lightening preparation is essential for optimal results and ensures that the product adheres properly.
Cruelty-free options like Manic Panic Rock Roll Red Hair Dye are vegan and free of PPD, ammonia, and parabens, so they're gentle on your scalp but still provide excellent color vibrancy.
When applying henna dye, be aware of its staining properties. It's recommended to do a test section first before committing fully! With proper pre-lightening preparation and a mindful application process, you can enjoy beautiful colors without worrying about the damaging effects that other dyes may have on your hair.
Hair Gloss

Are you looking to add a glossy shine to your hair? Hair gloss is an easy way to achieve that natural, healthy look without any damage. It's a semi-permanent treatment designed for those who want long-lasting results without the commitment of permanent color or bleach.
With this product, you can easily enhance and refresh existing hair color while adding amazing shine and depth in just one application.
What is Hair Gloss?
Unlock the secret to shiny, lustrous locks with hair gloss! A glossy finish adds vibrancy and shine to newly dyed or natural hair. Hair gloss is a semi-permanent coloring solution that delivers long-lasting results without damaging your locks like permanent dyes do.
The benefits of using this type of product include improved manageability, softer texture, and an overall healthy look and feel. Application is simple; simply apply it from roots to tips for even coverage throughout your strands before rinsing it out after about twenty minutes or more depending on the desired effect.
With regular use of a high-quality hair gloss product, you can remain confident in having the shiniest tresses around!
Achieving a Glossy Finish With Hair Gloss
Achieving a glossy finish with hair gloss is easy – just choose the right product and follow the instructions for an enviable shiny mane. Hair gloss application can be done at home, as long as you have all of the necessary items like pre-lightened hair color, developer, toner, or dye.
When it comes to glossy vs. matte finishes, know that applying a gloss will leave your locks looking smooth and healthy while still providing vibrant color results when used properly.
With these tips in mind and proper use of products, you'll be able to achieve maximum shine every time!
Tips for Choosing the Right Hair Dye for You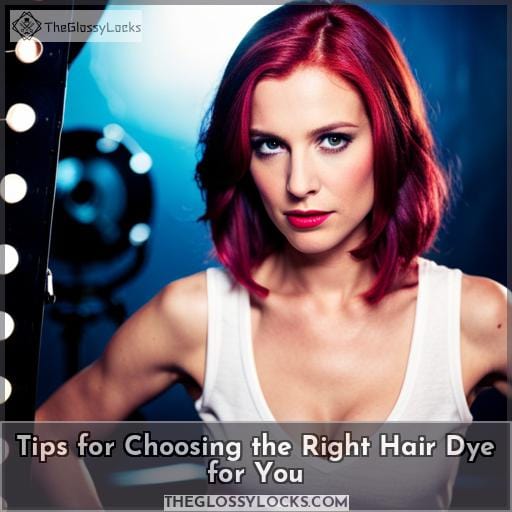 Choosing the right hair dye for you can be a challenging task, but understanding the different types of dyes and their longevity will help you make an informed decision. Consider your desired color result and whether it complements your skin tone. Permanent dyes last significantly longer than temporary or semi-permanent options, so take into account how often you plan to refresh the color before making a choice.
Hair dye longevity
When it comes to picking the right hair dye for you, longevity is an important factor to consider.
Consider fading factors such as sunlight exposure or improper care.
Use a maintenance guide like sulfate-free shampoo or a deep conditioning treatment.
Try using products specifically designed for color preservation and UV protection.
Choose a semi-permanent option if you want more control over how quickly the color fades away.
Avoid washing your hair too often; this can strip away the pigment from your locks faster than expected!
With proper knowledge and upkeep of coloring treatments, vibrant hues will stay intact longer so that all eyes are on you when rocking any hue of hair dye!
Color suitability for skin tone
Discovering the perfect hair dye for you starts with considering your skin tone; warm or cool undertones can make all the difference in finding a hue that is truly out of this world! Analyze your complexion and determine if it suits warm or cool color palettes.
Skin tone matching, undertone analysis, and shade selection are key to choosing colors that complement rather than clash with your natural look.
Consideration for lifestyle
Take your lifestyle into account when deciding on a hair dye. Will you need something long-lasting for outdoor activities? Hair color and career should factor in as well. If you're taking frequent business trips, choose an easily maintained semi-permanent or temporary option that won't require too much upkeep.
For fitness enthusiasts who swim frequently, try a permanent color to avoid fading from chlorine exposure. To express yourself through fashion with the latest hair trends, a demi-permanent is perfect for trying out bold colors and creating unique looks without damaging the strands.
Conclusion
No matter if you're looking to subtly cover gray roots or drastically change your look with a daring color, understanding the different types of hair dye, their benefits, and drawbacks is key to finding the perfect color for you.
There's something for everyone, from temporary to permanent, wash-out to bleach, and root concealer to hair gloss. Remember, when choosing a hair dye, consider your hair type, lifestyle, and skin tone for the best results.
With this ultimate guide, you'll be ready to take the plunge and find the perfect color for you!