This site is supported by our readers. We may earn a commission, at no cost to you, if you purchase through links.
Whether you are a teenager or an adult and pimples appear on your face like crazy, you could probably use the best acne treatments for men to clear your pores and look your best.
It is important to remember that you are not alone.
Millions of people suffer from acne, about 50 million in the United States alone – making it by far the most common skin condition – and a large proportion of those people are adults (some estimate between 20-40%). And that number can grow.
Men of all ages experience acne, although they are less likely to decrease with age.
But when you want to treat your acne, it can sometimes seem like every product out there just doesn't work.
Is there something wrong with your skin, or are you just not looking in the right place and best acne products for men?
We are here to help you; in this guide, we will take you through the best acne treatments for men.
We also discuss different types of acne, their causes, and how to get the most out of your treatment.
Things You Need Consider When Buying Best Acne Treatment For Men
Before we start explaining the best acne treatments for men, let's first discuss the key factors we considered during our testing processes.
Understanding these factors can help you determine the best acne products for men your needs.
This is critical as no acne treatment is perfect for everyone; it is a very personal decision that is highly dependent on your specific acne situation.
1. Acne Type
There are several ways in which acne manifests on your skin: pimples, blackheads, whiteheads, cystic acne, and acne scars.
But perhaps more importantly, you need to know what type of acne you have:
A-Comedonal acne
Comedonal is the mildest form of acne and, in most cases, does not cause painful swelling or inflammation.
It usually manifests as blackheads or whiteheads on the skin. Blackheads occur when dirt and germs under the pores of the skin make the skin appear dark.
Men who go through puberty, as well as young adults, will experience some form of comedonal acne during their lifetime.
It can also occur due to allergic reactions to skin or hair products, but most acne lesions, such as whiteheads and blackheads, occur due to a hard block of excess sebum in the skin pores.
B-Inflammatory Acne
This type of acne usually lacks a blackhead or whitehead and is characterized by a lot of swelling or redness under the bulge clogging the pores.
It can be sensitive or painful, especially when touched or disturbed.
Sometimes this acne manifests as pimples, which are commonly known as pimples.
Other times they can form papules, which are small red spots on the skin surface; these sometimes look a little scaly.
In general, this type of acne is also not that difficult to treat, although it usually requires some form of advanced treatment, in addition to just popping pimples or waiting for it to go away.
C-Cystic acne
Cystic is the most serious form of acne and consists of painful, inflamed pimples that leave scars.
It is usually the result of skin infections, and many OTC products and home remedies will make symptoms worse. See a dermatologist if you have cystic acne.
2. Skin Type
Skin type is another essential factor to consider when choosing the best acne treatments for men.
It's important to identify your skin type: is it normal, dry, oily, or a combination of two?
Certain skin types respond better or worse to different treatment vectors.
3. Ingredients
A final factor to consider is the ingredients in any treatment.
These clearly have direct effects on how each treatment variant fights acne and how rough or uncomfortable they can be on your skin.
Let's discuss some common ingredients you may come across.
Salicylic Acid
Salicylic acid keeps the pores closed and varies in strength from 0.5% to 5% with OTC treatments. It can sting lightly and cause skin irritation.
Benzoyl Peroxide
Benzoyl Peroxide performs a few different tasks at the same time.
It removes excess oil and dead skin cells, both of which often clog pores.
It also helps fight bacteria that often cause acne and skin infections.
This is usually not too difficult for most people to tolerate, even if there is a high concentration of the compound in a given formula.
Alpha Hydroxy Acids
There are two types of alpha-hydroxy acids used in non-prescription acne products: glycolic acid and lactic acid.
Both types treat acne by removing dead skin cells and reducing inflammation. They also stimulate skin growth and smoother skin.
Sulfur
This molecule also helps remove oil and dead skin cells.
It is usually found in a very low concentration and is small enough not to detect the signature sulfur odor you would expect.
10 Best Acne Treatments For Men Of 2023
It is important to determine your skin and acne type before choosing a pimple cream or the right acne facial for men.
If you're ready to fight those pesky pimples, we recommend the following ten best acne treatments for men.
1. Neutralyze Exfoliating Pads Maximum Strength Acne Treatment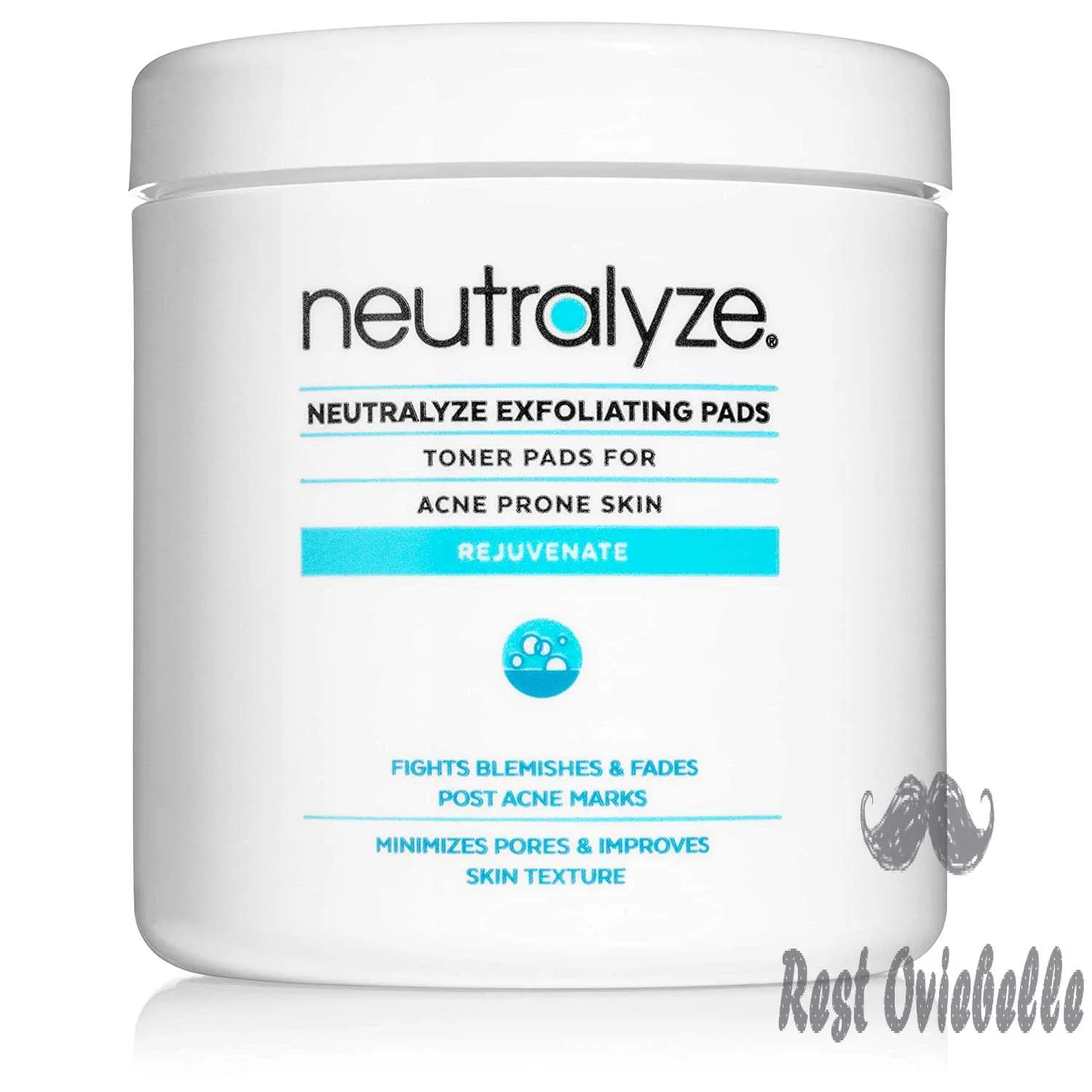 View On Amazon
This acne treatment uses the exfoliating technique.
These exfoliating pads use a variety of acids and other ingredients to effectively clear your pores and eliminate the sources of acne.
It is most effective in comedonal acne, as this type is mainly caused by clogged pores, but it can be effective in the other two types, although you should be careful when using them for cystic acne.
Always remember to contact the dermatologist before attempting to treat cystic acne.
The acne treatment pads included with this purchase are structured to exfoliate and unclog your pores.
How does this help you?
Exfoliation helps remove dead skin cells and wash them off your skin; this prevents them from clogging your pores, like other types of dirt and debris.
These scrub pads also use a little nitric oxide, which helps rejuvenate your skin and heal it off the skin faster. Wounds that cause acne.
That makes it the best acne treatment for men when it comes to all-over skincare, provided you have skin strong enough to resist exfoliating.
We can't recommend it for men with sensitive skin, but if you have normal or oily skin and can take a bit of pressure, this might be a perfect choice for you.
There is also great value for money here as you get 100 of the scrub pads for a very reasonable asking price.
Our testers found that the exfoliating pads a medical antiseptic odor, but they didn't bother them much.

Great for eliminating deep pore blockage
Affordable
A good amount of scrubs on purchase
Helps repair acne-damaged skin
Rough on the skin
Contains an antiseptic fragrance
2. Rugged Dapper Detox And Acne Face Mask For Men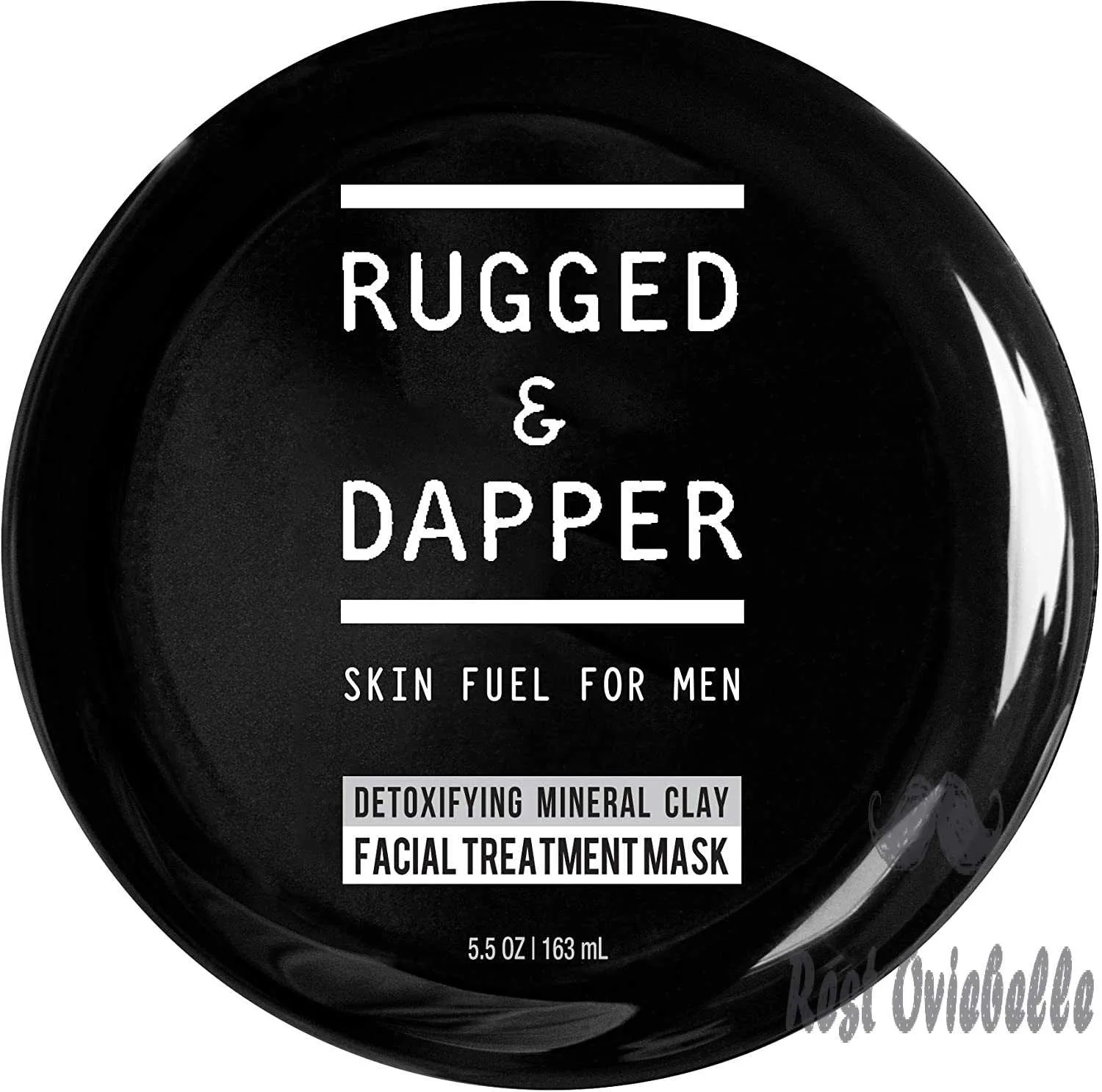 View On Amazon
This mask consists mainly of kaolin, a clay mineral that is widely used to treat troubled and irritated skin, including acne-prone skin.
Kaolin is an all-natural treatment that digs deep to absorb excess dirt and oil while removing toxins and bacteria from too much oil.
Rugged and Dapper's Acne Face Mask also contains aloe vera, which naturally soothes shaving and irritation from acne and helps fade dark spots and acne scars.
Another benefit is that this mask shrinks and shrinks pores to prevent future blockages and breakouts.
In addition, it is good for all skin types: sensitive, oily, dry, combination, etc.
Rugged and Dapper suggests using their acne face mask once a week to heal the skin and also to prevent future breakouts.
The Detox and Acne face mask from Rugged and Dapper helps soothe the skin, regardless of type and age.
Using once a week will help heal and rejuvenate irritated skin.
Natural components
Excellent for all ages and skin types
Soothes irritated skin
It might contemplate a tiny longer to dry than other masks.
3. L'Oreal Paris Skin Care Men Facial Cleanser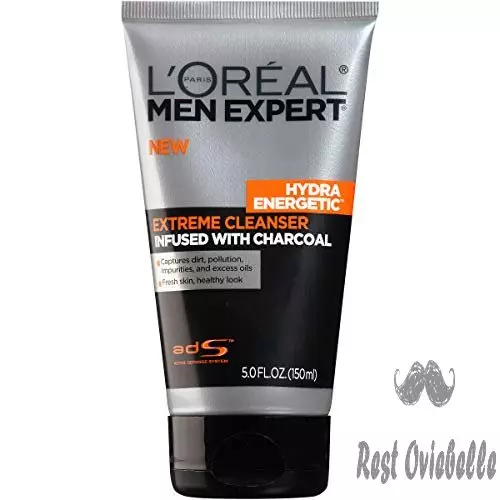 View On Amazon
This is one of the best acne treatments for menon the market.
It uses activated carbon as its main ingredient.
How does this help?
The charcoal rubs your pores and removes toxins and dirt deep inside.
When the charcoal is removed, it takes all the stuff with it, effectively cleaning your pores without scrubbing hard.
It's still not the softest technique, but it's a lot easier to handle than the rougher scrubs from earlier.
This is also a good choice for dry skin if there are moisturizing elements in the formula.
This means you can safely use this face wash even if you have dry skin and still suffer from acne.
Speaking of which, we've created a great guide to the best face lotions for men if you're interested!
There is also a handful of acids and antioxidants in the formula.
The acids help to further break down oils and dirt, while the antioxidants help the skin cells repair themselves.
We do not recommend this for cystic acne, but it is an excellent choice if you have comedonal or inflammatory acne as it is one of the best products for pore cleansing.
Another important advantage of this product is affordability; it's an excellent budget choice for any man who needs to take care of his face but doesn't want to spend too much money at once.
There are 5 grams of the product at the time of purchase, so it takes a long time to need a replacement.

Truly reduced-price
Charcoal draws out toxins effectively without having to acquire to scrub
Antioxidants aid fix skin
Deep cleanses pores
Not great for delicate skin
Can truly feel thick and unpleasant as utilized
4. Kiehl's Men's Oil Eliminator Deep Cleansing Exfoliating Face Wash
View On Amazon
some men have oily skin than others.
By the way, some teens and women too, but the point is that men with oily skin causing acne should seek specific treatments for their skin.
That's where the best acne product for men like Kiehl's Men's Oil Eliminator Deep Cleansing Exfoliating Wash comes into play.
Kiehl's number one acne treatment option for men has men with oily skin in mind.
With daily use, the Deep Cleansing Exfoliating Face Wash removes excess oil, sweat, and other grime to A) clean pores and B) to reduce the shine of oily skin.
As the name suggests, the Deep Cleansing Face Wash also removes dead skin cells to leave your skin smooth and refreshed.
The main ingredients in Kiehl's face wash are salicylic acid, argan shells, and apricot kernels.
Salicylic acid works to loosen clogged pores, while apricot kernels and argan shells handle the exfoliating process.
It is a formulation that impresses but is still suitable for sensitive skin, as well as being free from parabens and sulfates.
Dealing with oily skin is often a challenge, but their Deep Cleansing Exfoliating Wash provides maximum oil control that few other or no other products can match.

Ideal for oily skin
Exfoliates and protects
Leaves skin feeling smooth without having getting irritation
5. Keeva Organics Acne Treatment Cream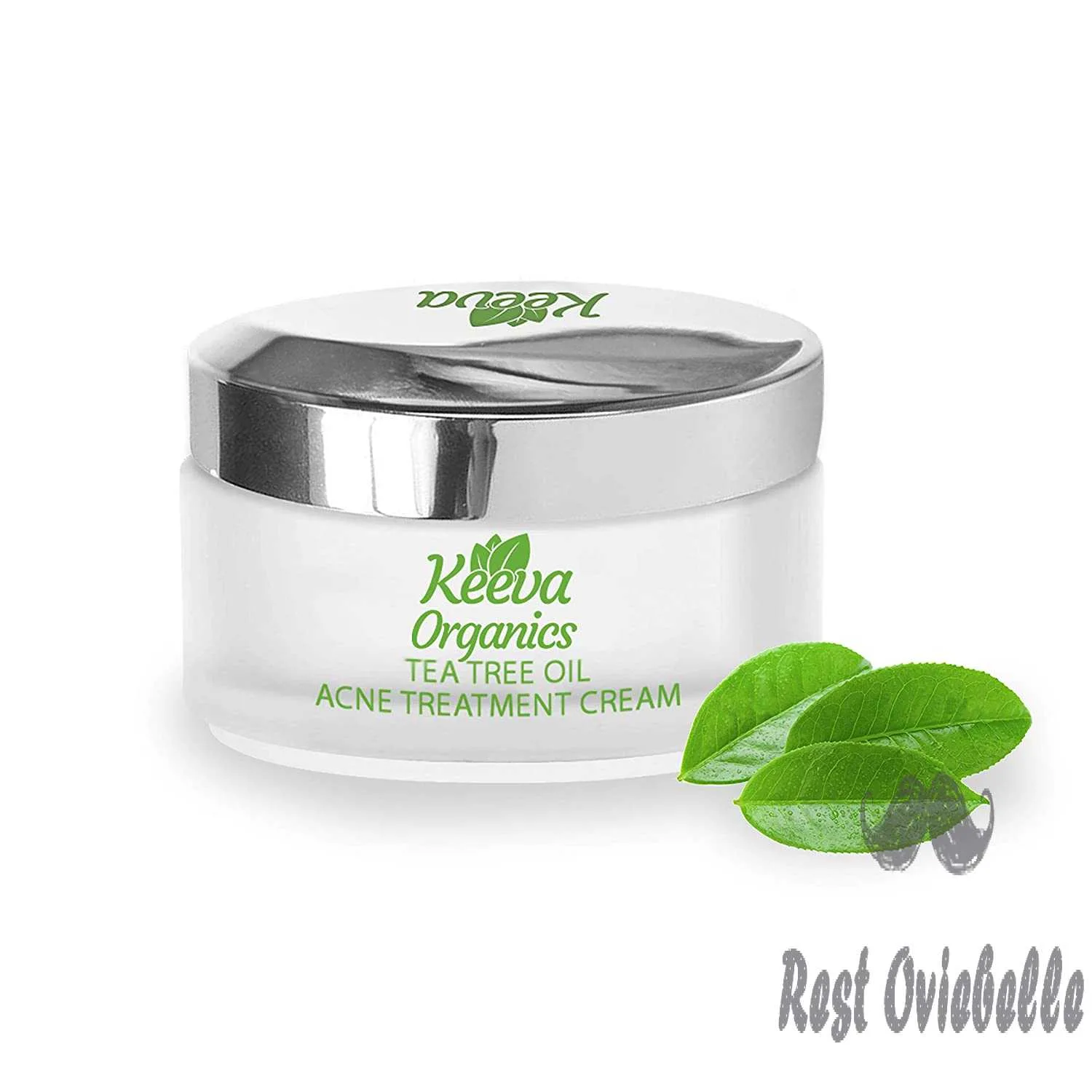 View On Amazon
This acne treatment is a cream that uses salicylic acid and tea tree oil to great effect.
Salicylic acid is the main disintegrating ingredient for dirt and oil; it breaks down both harmful substances and cleanses your pores.
Meanwhile, the tea tree oil and several other natural oil ingredients are blended together and combined with soothing and energizing your skin.
In fact, the oils make applying this cream one of the most comfortable experiences our testers have reported.
Who knew that dealing with acne can be so relaxing?
All oils also give it a naturally pleasant fragrance, although it is not too noticeable.
There are also minty ingredients that make the cream tingle a little on your skin.
Being so comfortable, it can be a good treatment even if you have cystic acne, which is generally the most painful and sensitive of all types.
Do not forget to consult a dermatologist beforehand.
Because of the soft feeling, we have to recommend this for any man with very sensitive skin but who still needs to take care of his acne.
It's even gentle enough to overwhelm the traditional discomfort caused by salicylic acid.
It is also a good choice if you have drier skin than usual because it contains moisturizing ingredients and does not dry out your pores after throwing away oil or dirt.

Fantastic, calming texture
Minty tingling sensation
Good for clearing pores gently
Superb for any skin sort
Fragrance is noticeable
Does not function as swiftly as some other therapy alternatives
6. Acne Facial Cleanser By Exposed Skin Care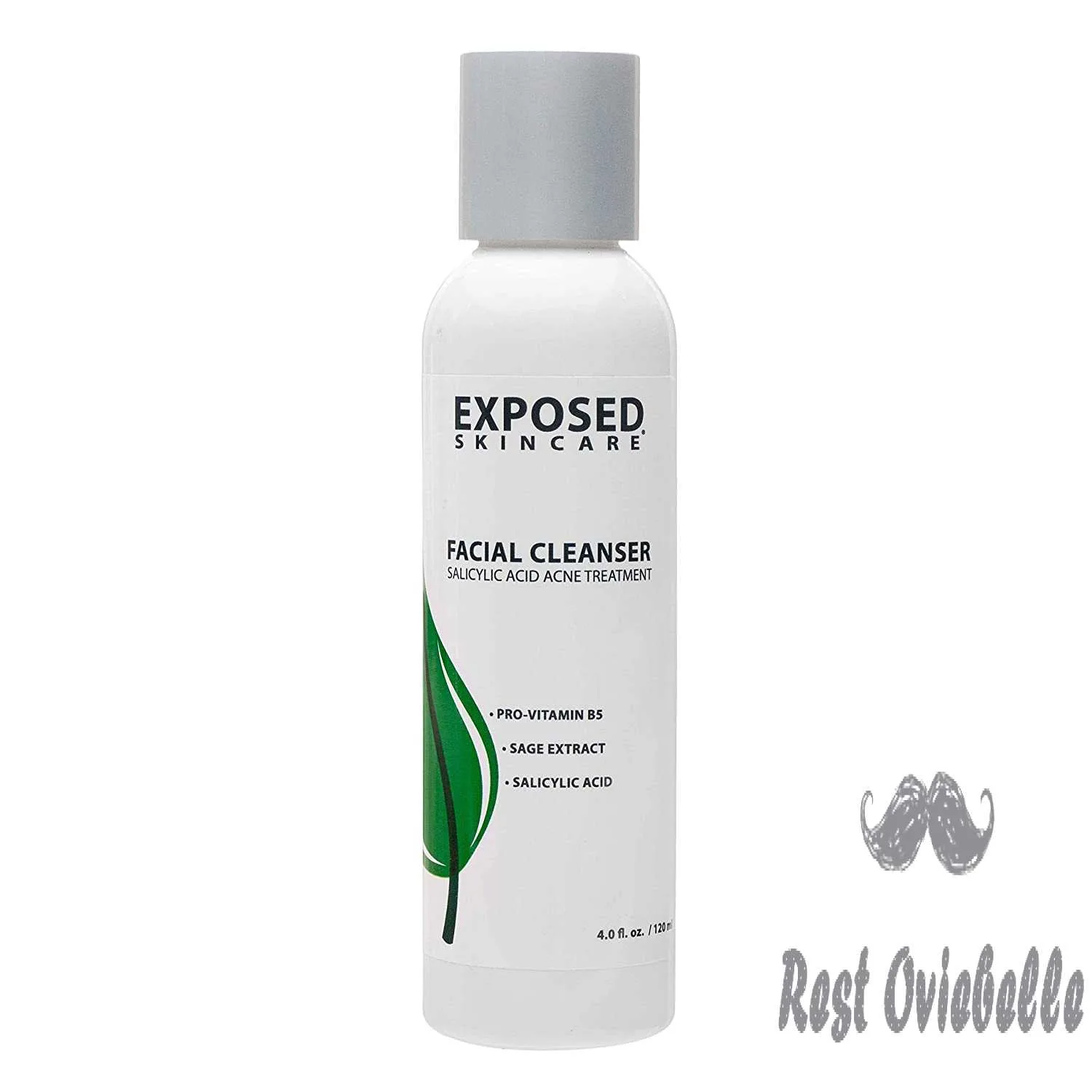 View On Amazon
Since acne is more common in adolescent men than adults, we should not forget about the best acne treatment for teenage boys.
And while there are many contenders, we think Exposed Skin Care's Acne Facial Cleanser is at the top of the list.
However, it is not only a product for teenagers, like so many men: and women: have used it with good results.
The theory behind Exposed Skin Care's acne treatment is that clean skin means clear skin.
Their acne facial cleanser provides deep yet gentle cleansing of the facial skin that is soap-free, non-comedogenic, and hypoallergenic.
It removes oil and grime from your face and penetrates your pores while eliminating acne-causing bacteria. In addition, it retains the lipid layer of your skin and helps keep the skin smooth.
The folks at Exposed Skin Care recommend using their acne facial cleanser in conjunction with their Acne Treatment Serum.
The two products work best when used twice a day to give an extra kick in clearing up and preventing acne.
While many deep cleansing products contain aggressive, irritating ingredients, Exposed Skin Care's Acne Facial Cleanser is free from sulfates and parabens.
If you buy their basic set for 60 days, you get the facial cleanser and Acne Treatment Serum, as well as their Clearing Tonic, which helps rejuvenate troubled skin.
But the Acne Facial Cleanser works well on its own and should replace harder soaps if you suffer from acne.
If you are looking for a product that offers the kind of deep cleansing that keeps acne-causing bacteria away, then the product of exposed skincare is for you.
Many reviewers have tried other products without seeing the kind of results they got with the Acne Facial Cleanser.

Deep cleans your face.
Gentle yet robust enough to get rid of oil and filth
Superb for teenagers
May set off extreme drying of the skin.
7. Botanic Tree Men's Face Wash Acne Prone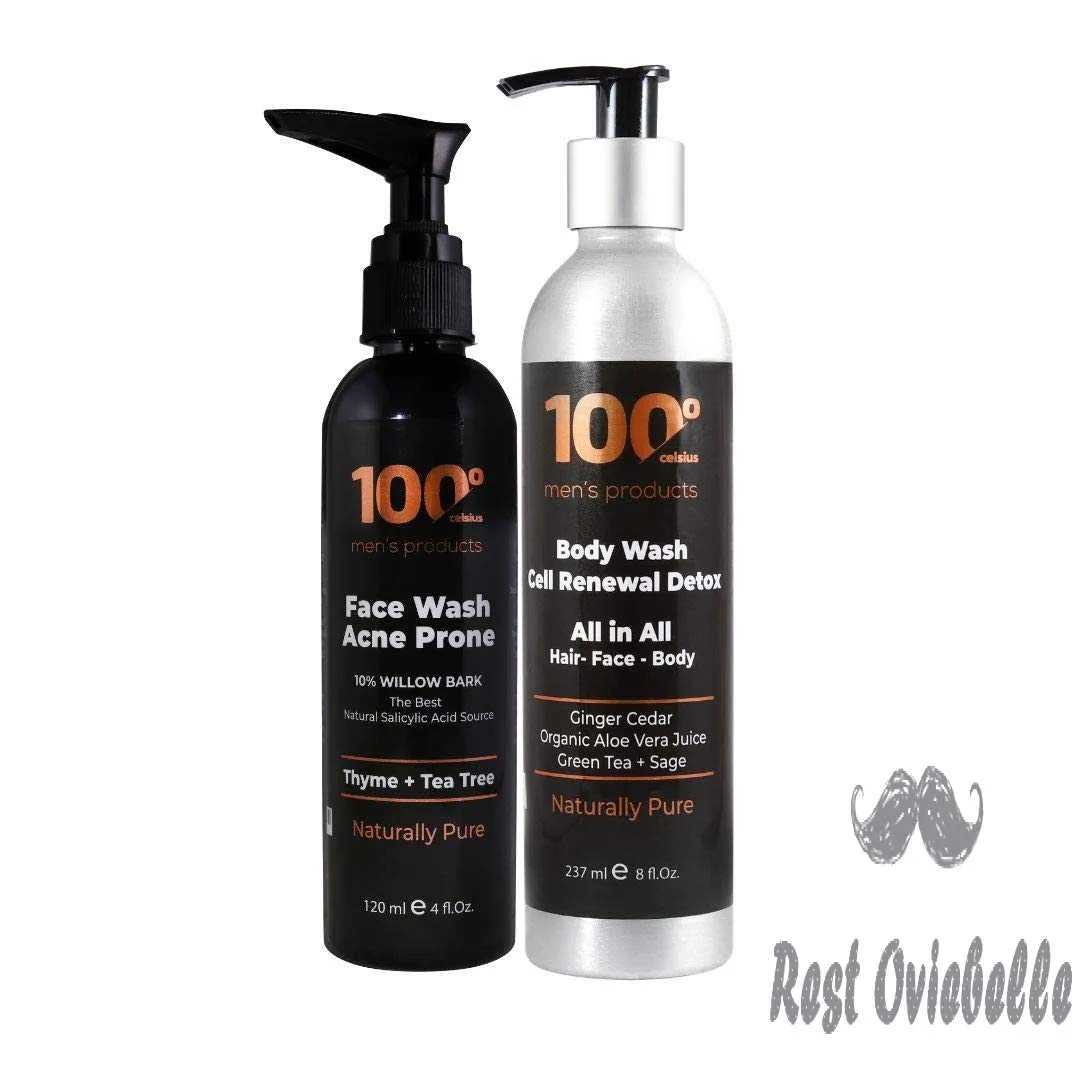 View On Amazon
This face wash uses willow bark extract.
How does this help?
Willow bark extract actually contains salicylic acid, one of the best compounds to remove excess oil and dirt that has entered your pores.
This face wash also uses other 100% organic extracts and ingredients, such as thyme, to soothe your face and stimulate your skin cells to regenerate.
It's not very gentle, but our testers reported it was fine for use with overly oily skin.
So it is a good choice if you have comedonal or inflammatory acne and especially need to clean your pores.
It doesn't have moisturizing elements, though, so chances are it will dry out your pores if you naturally have dry skin.
As a face wash, it is best used in conjunction with good hygiene practices to keep your pores clean most of the time.
It comes in a handy spray bottle that you can use right after a shower for the best results.
It's a bit pricey considering you only get 4 grams of product, but it's definitely one of the most effective facial cleansers for men with acne in terms of pure pore-cleansing potential.

Extremely effective at dismantling extra oil
Gets deep into pores
Simple to use as part of each day hygiene regimen
Excellent for overly-oily skin
Not great for dry skin
Can be regarded as a bit pricey
8. Acnetame Vitamin Supplements For Acne Treatment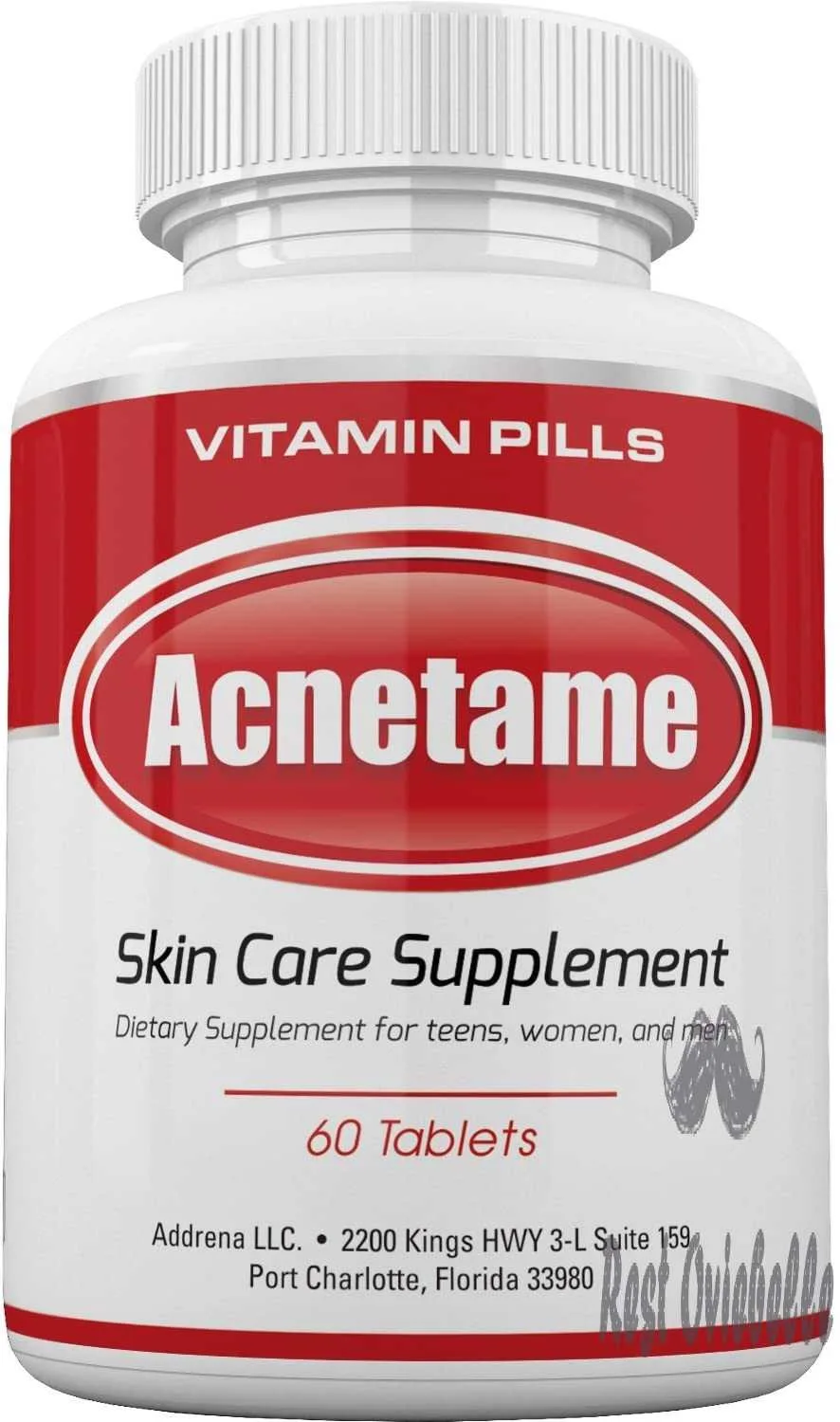 View On Amazon
These are skincare supplements designed to change your hormone balance and reduce your acne over time; they also reduce the amount of oil your skin naturally produces.
So these are especially a solution if you have acne problems due to hormonal imbalances instead of hygiene problems or clogged pores.
Sulfur is their main acne-fighting ingredient, so make sure you only take so many pills that target the back.
You don't want to accidentally consume too much sulfur.
This is a particularly exciting solution for teens as their common acne is usually caused by tons of hormones.
These pills have a downside because they are used consistently, and it takes a little time to really work in; you will not see immediate results.
Instead, it's best to use these pills along with other pore cleansing activities and good hygiene practices to really limit how you risk an acne breakout.
These are also not good for cystic or inflammatory acne, which is not caused by hormonal imbalances.
But if you have typical teenage acne and sensitive skin, you can completely avoid any kind of discomfort or pain by taking these pills.
It doesn't matter what your skin type is.
These pills help you to reduce your acne outbreaks over time, provided hormones are the problem.

Great for delicate skin
Excellent for hormone imbalances
Reduces facial oil
No discomfort in application
Slow-acting
Does not really very easily unblock pores
9. Tiege Hanley Daily Moisturizing Acne Cream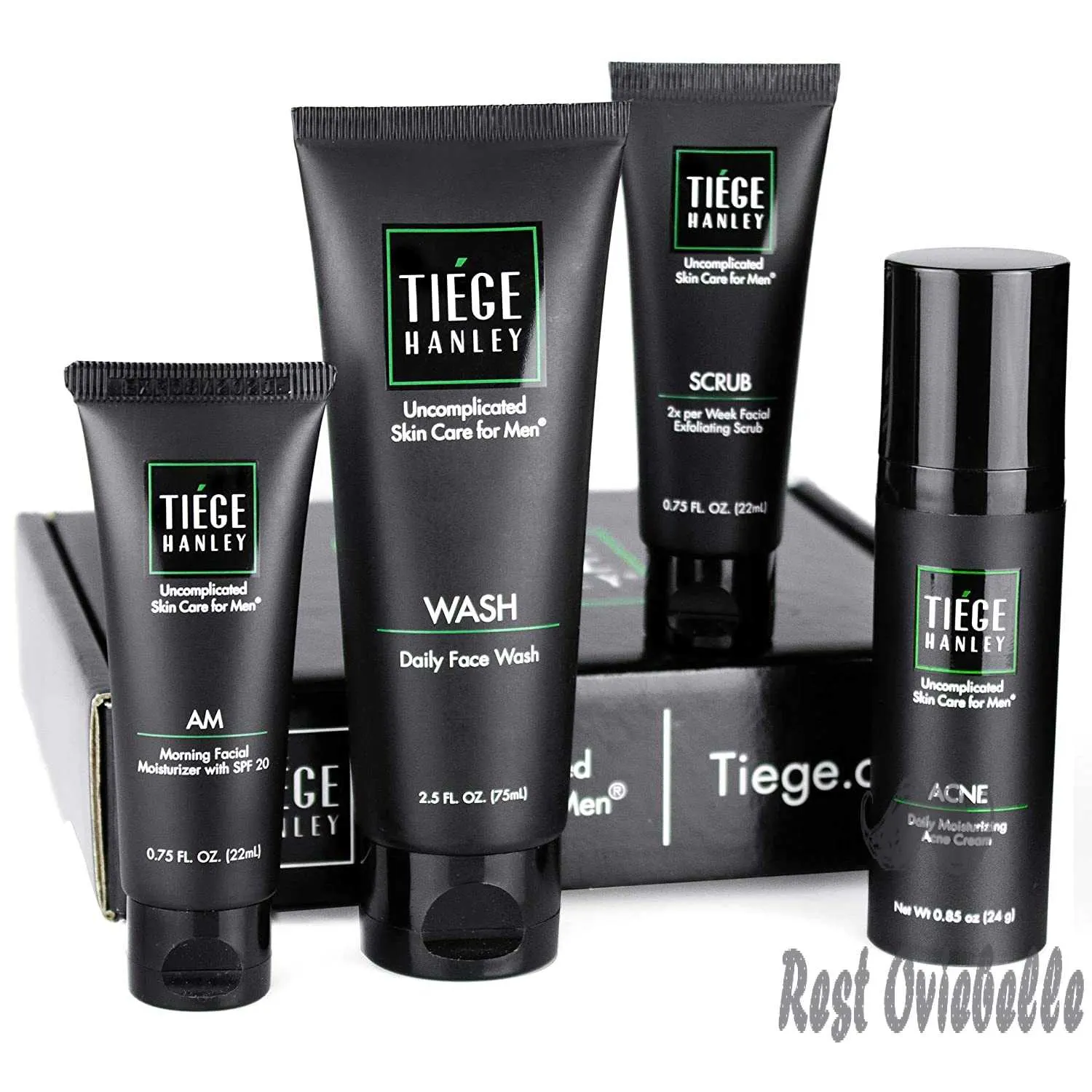 View On Amazon
If there is one thing to say about Tiege Hanley, it is that it covers you for all your facial skin needs.
From face wash to moisturizer and eye serum, Tiege Hanley offers something for every inch of your facial skin.
The long list of products includes a great acne cream that controls the redness and swelling and prevents future breakouts.
Tiege Hanley employs a chemist known only as (The Chemist) who formulates all of his products.
According to TH, The Chemist firmly believes that diet and excessive facial washing don't clear up acne, but the topical treatment makes all the difference.
Tiege Hanley's acne cream is infused with salicylic acid, which helps remove the top layer of skin cells.
It also reduces the side effects of acne and blackheads while containing a moisturizing formula that helps dryness minimalize.
The Tiege Hanley acne cream also works by fighting bacteria that lead to breakouts and cause blockages. Ng pores.
It even helps reduce the appearance of acne scars and prevent future breakouts.
Other key ingredients in Tiege Hanley's acne cream are plantain extract and KuKui nut oil.
Plantain Extract helps accelerate wound healing and regenerate skin.
It also reduces the chance of scars. Kukui nut oil, at the same time, helps hydrate and protect the skin without clogging pores.

Helps unclog pores
Minimizes acne scars
Limits acne breakouts
Possibly not as superb for dry, delicate skin
10. Drmtlgy Acne Spot Treatment And Cystic Acne Treatment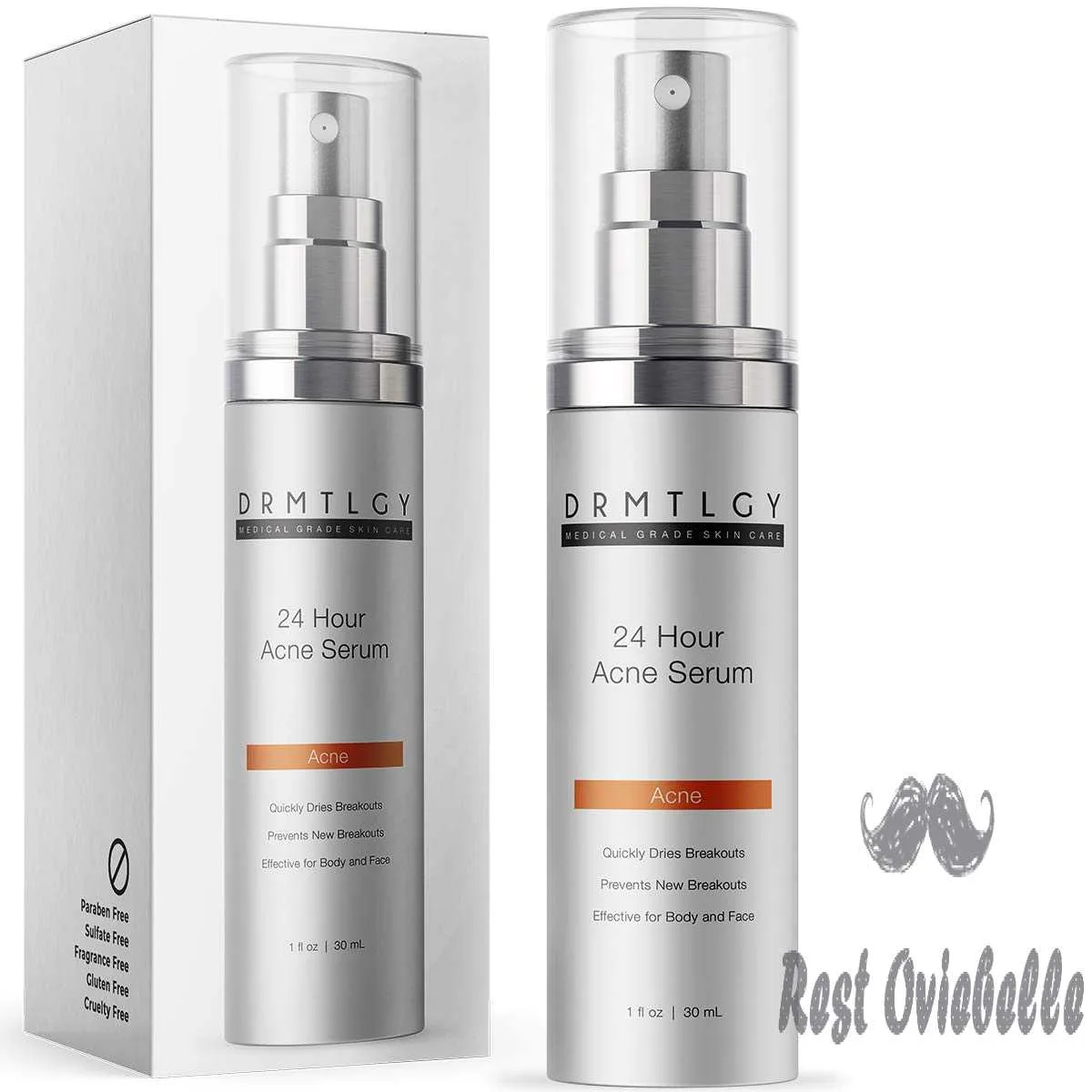 View On Amazon
This acne treatment comes in (serum) format, which means it looks a lot like a cream, but the texture is thinner and absorbed by the body a little faster.
When supplied via a spray bottle, which is extremely affordable and a perfect solution if you want to take your acne treatment on vacation or on a business trip.
It uses glycolic acid and benzoyl peroxide in combination to dissolve pore-clogging oils and reduce breakouts without drying out your skin.
The glycolic acid used here is actually 5% of the total composition of the formula; this means that it is incredibly effective and also gently exfoliates your skin cells and removes dead skin tissue.
This will cause your skin to create new, healthy skin cells to replace the old scarred skin.
You can use the serum on the face, neck, or chest and see similar results, so it is also a good choice if you have acne that extends to those areas.
Due to the application method, you can safely use this serum if you have more sensitive skin than usual.
Just spray it and rub it gently on the desired spots.
Hard scrubbing is not necessary.
There is only one ounce of serum with the purchase, which means it's a bit pricey considering how much you get per dollar.
But you can't deny how convenient it would be to have such a portable acne solution small enough to fit in your pocket.

Truly great at unblocking pores
Really gentle
Excellent for any skin kind
Transportable and compact bottle
Pricey
Not a lot in a bottle
FAQs About Acne
Now that you've narrowed down the bestacne treatment for men specific needs, let's go over some common acne questions.
What Causes Acne?
Some of us grew up with parents telling us to stop eating chips and other fatty foods because they cause acne.
The fact is that eating chips and chicken wings will ruin a balanced diet, but they will not cause you to get breakouts.
On the other hand, stress can contribute to acne formation, but a hearty junk food diet will only give you indigestion, among other potential health problems.
Another myth is that poor hygiene is a factor in acne formation.
However, dirty skin does not cause acne, and in fact, scrubbing the skin too hard with hard soaps and chemicals can be the problem. Make it worse.
Biologically, the causes of acne can be traced to a genetic predisposition; if one of your parents had acne, you are more likely to have acne. The same goes for male pattern baldness.
Hormones also play a role in acne development.
Scientifically, acne is a condition of the sebaceous glands under the skin.
The glands produce oil and may increase in size due to hormones, while skin cells can become sticky and clog pores with acne-causing bacteria.
As bacteria increase, so does the appearance of acne on your skin.
Aside, taking steroid supplements as part of your condition or exercise increases your chances of acne.
How to treat adult acne?
In the case of hormone-related acne, hormonal imbalances are more difficult to diagnose and to treat for a long time. However, treating the acne itself is quite easy.
If you're getting a pimple or trying to stop it from popping up, check out the classic acne-fighting ingredients you remember from your teens: benzoyl peroxide, salicylic acid, and retinoids.
The treatment is generally the same regardless of the cause of the acne.
How long do I have to continue my acne treatment?
The truth is that there is not one specific timeline that you can follow during your acne treatment.
If your acne is common, you will likely always have good hygiene or continue to use an acne treatment product for the rest of your life until your skin no longer becomes prone to acne, which is generally your later years.
If your acne is cystic, your timeline can range from a few days to a few weeks or months, depending on the specific treatment recommended by your dermatologist.
The most important thing to look out for here is that good hygiene is the key to generally reducing acne.
Are there any ways to prevent acne?
Hygiene and consistency are the only ways to keep acne away.
If you've already had acne, you already know that your genetics make you prone to breakouts and breakouts.
This means taking steps to keep your skin clear or nature getting its natural course and giving you acne.
If you're a teenager and acne is the bane of your existence, just do what you can and wait a few more years for your hormones to stabilize.
We promise that within a few years, acne will become more tolerable and unbeatable.
Until then, there is not much you can do as your acne is probably caused by your crazy hormone balance, which also makes you bigger and gets a deeper voice.
Conclusion
As always, we welcome your feedback and questions. Do you have a favorite acne treatment not listed here? Or have you tried any of the above best acne treatments for men? Let us know!
References
primandprep.com
baldingbeards.com