This site is supported by our readers. We may earn a commission, at no cost to you, if you purchase through links.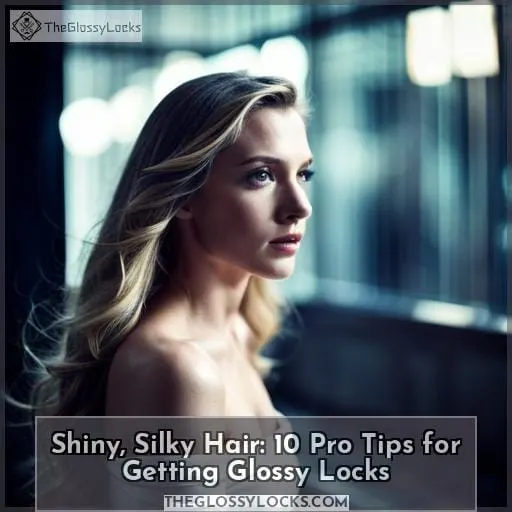 Looking for glossy, mirror-like hair? You don't need to spend hours primping to get those glossy locks. With some simple haircare tweaks and techniques, you can reveal your shiniest strands yet.
Start by clarifying buildup with a deep-cleansing shampoo to smooth the cuticle. Then, amp up hydration with a nourishing hair mask and leave-in conditioner. A few key styling adjustments—like air drying instead of blow drying and using heat protectant before hot tools—can also boost shine.
And don't forget the finishing touches: prep flyaways with pomade and tame frizz with serum.
Key Takeaways
Clarify hair with a sulfate/silicone-free shampoo to remove buildup and achieve glossiness.
Use nourishing products, such as deep conditioning masks and leave-in conditioner, for long-lasting hydration and shine.
Incorporate scalp care by exfoliating with a boar bristle brush to boost circulation and maintain a healthy scalp.
Limit heat styling, protect your hair with thermal products, and opt for protective styles to retain natural shine.
Clarify Buildup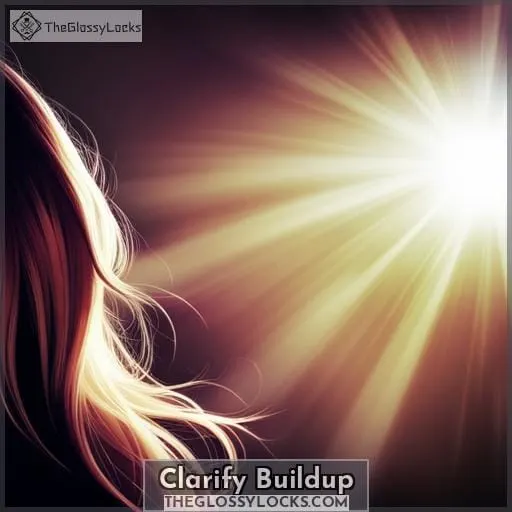 You've made the crucial first step toward hair that shines by recognizing the need to remove buildup. Regular clarifying helps lift residue so that light can reflect off smooth strands for eye-catching radiance.
Clarifying Shampoo
Try a weekly clarifying shampoo to remove gunk that dulls your locks. As your trusted stylist, my top 3 tips for success:
Seek sulfate/silicone-free formulas to avoid buildup.
Massage into scalp/lengths, let sit, then rinse with cool water.
Follow with moisturizing conditioner to replenish and avoid dryness or damage.
Using the right shampoo weekly keeps hair fresh, removes residue, and boosts shine for healthy, vibrant locks.
Apple Cider Vinegar Rinse
Rinsing your hair weekly with apple cider vinegar helps remove buildup and boost shine. Mix one part apple cider vinegar with two parts water in a spray bottle. After shampooing, spritz the mixture throughout damp hair.
Let it sit for a few minutes before rinsing. The acetic acid in vinegar dissolves residue so hair better reflects light. Make this clarifying rinse part of your weekly routine for added gloss and shine.
Hydrate Hair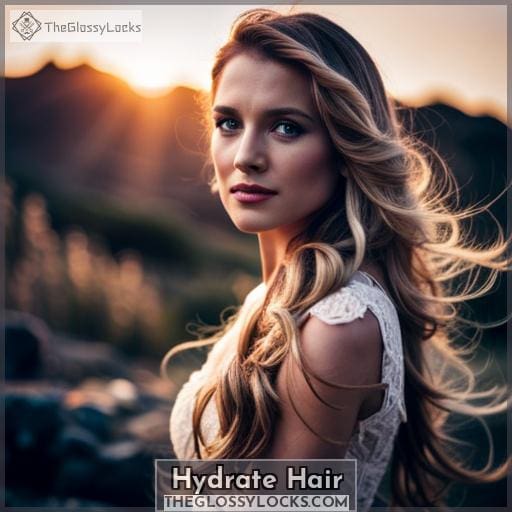 Listen up, your hair needs some serious tender loving care. Give those dry, parched locks a nourishing drink by applying a deep conditioning hair mask weekly and smooth on a leave-in conditioner after every wash to seal in moisture.
Switching up your hair care routine to regularly treat your hair will help inject much-needed hydration into your thirsty strands. Be sure to avoid hot tools and over-washing, as these can worsen dryness. With some discipline about deep conditioning and using moisturizing products, you can nurse your hair back to a healthy, hydrated state.
Deep Conditioning Masks
If you're craving lush, silky hair, deep conditioning masks can nourish each strand. Try using a deep conditioning mask weekly. Look for nourishing ingredients like avocado, coconut oil, and argan oil.
Leave the mask on for at least 10 minutes before rinsing thoroughly. The intensive moisture replenishes parched strands, leaving hair supple, shiny, and frizz-free. For extra shine, apply a glossing serum before blow drying. Let your hair air dry when possible.
Leave-in Conditioners
Instead of getting glossy hair, focus on deeply hydrating it with leave-in conditioners for moisture that lasts.
Look for lightweight formulas that won't weigh hair down.
Choose a product for your hair texture – a thick cream for coarse hair, a spray for fine strands.
Apply to damp hair, focusing on the ends to control frizz.
Leave-in conditioners can be used as a heat protectant before styling.
Leave-in conditioners are moisture powerhouses, providing long-lasting hydration and frizz control while enhancing shine.
Protect Color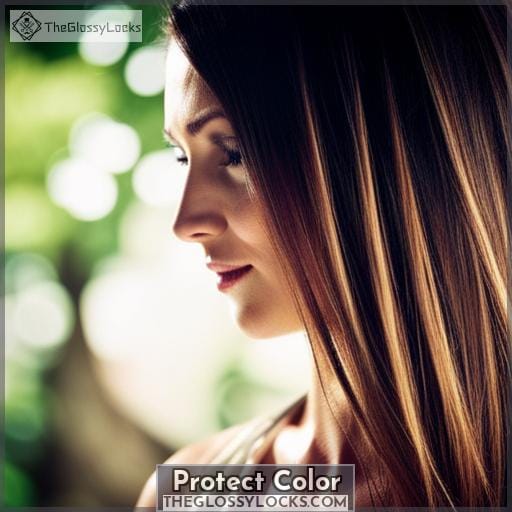 Beautiful, vibrant colored hair needs special care. Choose a moisturizing, sulfate-free shampoo to gently remove dirt and oils without stripping hair's color or shine. To protect color-treated hair, use a shampoo specially formulated for color-treated hair.
Look for gentle, moisturizing ingredients like keratin, argan oil, or shea butter. Avoid shampoos with sulfates, which can be harsh and fade color faster. Deep condition weekly with a hydrating masque.
Limit washing to 2-3 times per week, and use cool water to prevent color fading. After washing, gently blot hair with a towel – rubbing can cause frizz and color loss. Regular trims will keep color looking fresher longer. With the right products and techniques, you can keep color-treated hair looking salon-fresh for weeks.
Sulfate-Free Shampoo
Luxuriate your curls with sulfate-free shampoo's nourishing cleanse. Bypassing sulfates soothes, leaving your hair soft and bouncy. Co-washing hydrates further. Be wary of shine myths – excess oils often cause greasiness, not gloss.
Avoid Hot Water
You'll prolong color vibrance by avoiding hot water when you rinse.
Use lukewarm or cool water
Rinse with cool water last
Cold water seals the cuticle
Preserve color intensity
Avoid extremely hot water to keep your color looking rich and vibrant. Using lukewarm water and finishing with a cool rinse helps lock in color pigments so they last longer between salon visits. The shot of cold water at the end also smoothes the hair cuticle down, sealing in shine and gloss for luminous, healthy-looking hair.
Stimulate Scalp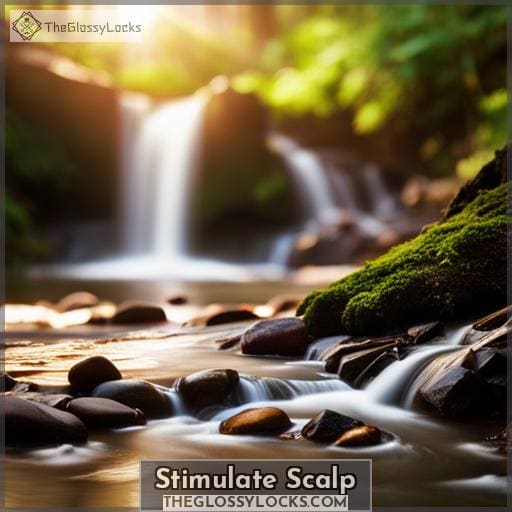 Massaging natural oils like coconut and olive oil into your scalp can moisturize, stimulate growth, and add shine to hair. Gently exfoliating with a specialized scalp brush also boosts circulation and removes product residue that can make hair appear dull.
Massage Oils
Massaging vitamin E into your scalp stimulates growth for glossy locks. Use natural oils like almond or jojoba for aromatherapy benefits while massaging. Vitamin E nourishes follicles and improves circulation. Boar-bristle brushes exfoliate buildup, too.
Don't overload on conditioners or oils to avoid greasy hair. Focus scalp massage on stimulating blood flow. Healthy follicles and scalp mean healthy, glossy hair. Use massage oils and scalp scrubbers for relaxation and hair growth.
Temporary shine products help, but a healthy scalp is key for lasting luminosity.
Exfoliate With Scalp Brush
Scrubbing the scalp with a bristle brush exfoliates skin, boosts circulation, and removes product buildup for an instant shine boost without stripping sebum.
Exfoliates and purifies clogged pores
Boosts blood flow and oxygen to follicles
Loosens and sweeps away dead skin cells
Removes excess oils and product residue
Stimulates and nourishes hair follicles
Gently massaging in circular motions with a natural boar bristle brush brings the scalp and strands back to life. It preps hair for optimal color saturation and leaves it looking healthy, voluminous and shiny.
Style Right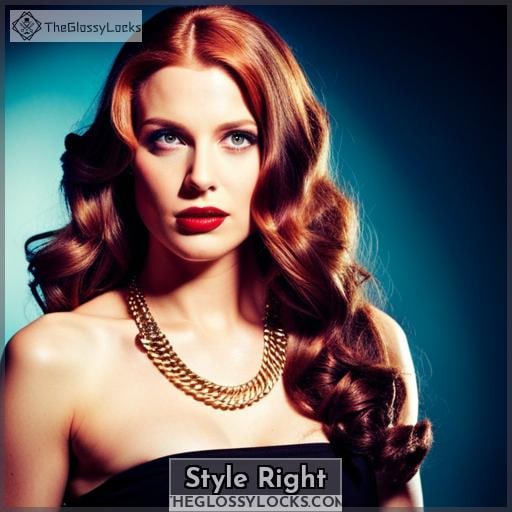 When styling for shine, letting your hair air dry instead of using hot tools can help prevent damage and breakage. Be sure to apply a thermal protectant spray or serum before using any heated styling tools to help prevent cuticle and protein damage, which can lead to dull, dry strands.
Air Dry
Only heat style hair when necessary for special occasions or events. Hair takes a beating from hot tools like blowdryers, curling irons, straighteners.
When heat styling:
| Do This | Avoid That |
| --- | --- |
| Use heat protectant | High temperatures |
| Lower water temperature | Heating wet hair |
| Limit time with hot tools | Over-brushing |
Look for gloss-inducing products like serums with argan oil or hair glaze treatments. Boost shine from the inside too – eat a vitamin-rich diet with omega fatty acids. And be gentle – brush hair before showering to distribute oils, and sleep on a silk pillowcase.
Thermal Protectants
Use a heat protectant before styling your hair.
Apply sparingly before using hot tools.
Look for lightweight formulas that protect without heaviness.
Spray from roots to ends for even coverage.
Before blow drying or flat ironing, be sure to prep strands with a thermal protectant first. This helps shield hair from heat damage for a glossy, healthy finish. Using quality tools and the lowest effective temperature are also key to maintaining shine and minimizing breakage over time.
Prep Hair

You know those pesky flyaways and frizzies can really dull your gorgeous locks. Taming them with pomades controls flyaways, and serums knock out frizz.
Pomades for Flyaways
Tame flyaways with Tancho's lightweight pomade that smooths without grease. The lavender-scented serum in a compact tube tames stray strands for frizz-free, glossy styling anywhere. Work the non-greasy formula through damp or dry hair, focusing on calming edges and flyaways.
The pomade's strengthening serum enhances shine, while lavender soothes the senses. For ultimate frizz control and touchable smoothness, finish styles by brushing pomade through to the ends.
Serums for Frizz
You've got to find the perfect serum if you want frizz-free hair, hon. Look for formulas with natural oils like argan, coconut, or marula that smooth each strand without weighing down your locks. They'll give you long-lasting gloss and frizz control so you can rock smooth, sleek strands.
Opt for serums with wholesome ingredients to nourish while taming frizz. With the right natural serum, you'll get the frizz-free, glossy hair of your dreams.
Sleep Smart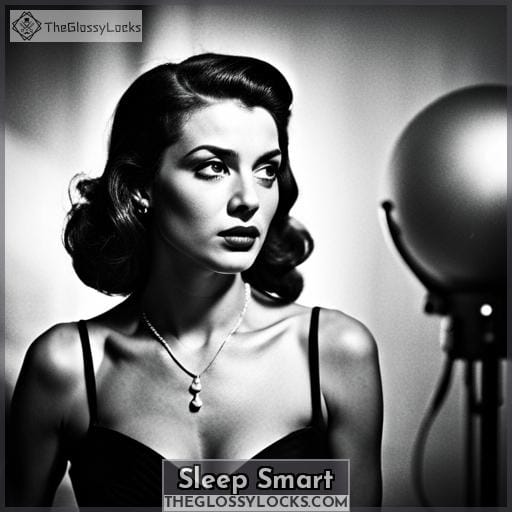 Frizzy hair and damaged strands aren't ideal bedfellows, so try sleeping with a satin pillowcase and simple protective hairstyles to minimize friction. Silk or satin pillowcases allow hair to slide smoothly during the night, reducing drying and breakage while keeping your style intact.
Secure your hair in a loose braid or gentle twist if tossing and turning usually leads to tangles.
Satin Pillowcase
Sleep on a silk pillowcase to avoid friction that causes breakage and frizz.
Reduces bedhead and tangles
Prevents split ends by minimizing abrasion
Allows hair to glide smoothly across the surface
The slippery surface of satin pillowcases helps hair retain moisture and shine overnight. Less friction means fewer flyaways and frizz in the morning. Satin also doesn't absorb product like cotton does, so your hair gets all the benefits of leave-in treatments.
Simply swap your pillowcase as part of your nighttime hair care routine for instant gloss.
Protective Styles
Braiding your hair before bed helps protect it from friction. Try these easy protective styles:
Braid Styles
French braid
Fishtail braid
Dutch braid
Lace braid
Twist Styles
Two-strand twists
Flat twists
Rope twists
Bantu knots
Braided Updos
Braided bun
Braided crown
Messy braided updo
Braided chignon
Low-manipulation styles like braids and twists prevent breakage overnight. Head wraps also shield strands.
Eat for Shine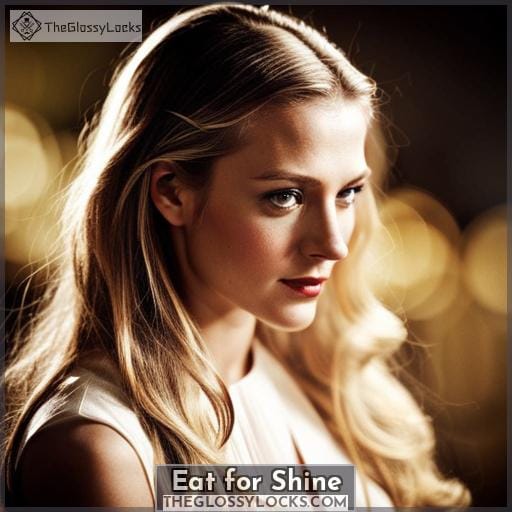 Let's talk about nourishing foods for lustrous locks. Include vitamin E-rich foods like almonds, spinach, and avocados in your diet, and stay hydrated by drinking water, herbal teas, fresh fruits, and vegetables for hair that shines from the inside out.
Eating antioxidant-rich foods like salmon, eggs, and carrots can also give your hair a healthy glow. Massaging your scalp with natural oils such as coconut, olive, or almond oil helps condition your hair and scalp.
Getting enough protein, omega-3s, iron, and B vitamins in your diet helps promote strong, shiny strands. Try varying your protein sources to include eggs, poultry, fish, legumes, nuts, and seeds for maximum hair health benefits.
Ultimately, a balanced diet with plenty of hair-friendly vitamins and minerals, along with proper hydration and scalp care, can help you achieve beautiful, radiant hair that shines.
Foods Rich in Vitamin E
While foods like almonds contain vitamin E, help nourish your scalp by massaging with vitamin E oil to stimulate hair growth for shiny strands.
Avocados – high in vitamins and antioxidants.
Vegetable oils – sunflower, safflower, olive oil.
Almonds, hazelnuts – eat raw or roasted.
Hydrating Foods
Stay hydrated with cucumber water to boost shine from within. The cooling crunch of cucumber sliced into water is an easy way to hydrate hair follicles for plump strands. Eating water-rich foods like cucumber, watermelon, kale, and yogurt delivers hair-healthy hydration.
Drink plenty of water, herbal tea, and hydrating juices in addition to eating moisturizing foods. Your locks will grow in stronger and more vibrant with great shine when you consume ample H2O.
Get a Gloss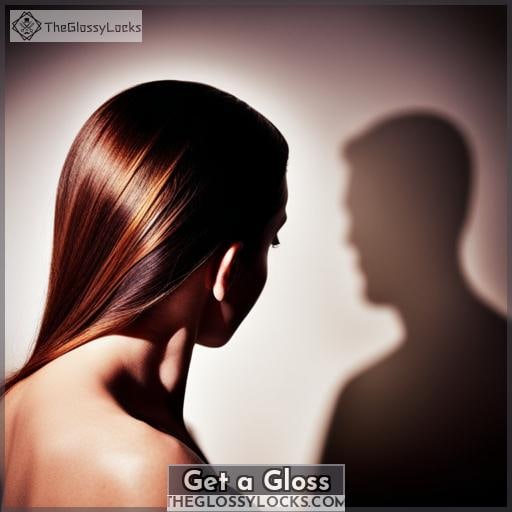 Looking for an instant boost in shine and color? Give your hair a gloss treatment by having your stylist apply a clear or colored glossing glaze for a few minutes to refresh your hair's radiance between salon visits.
This in-salon service deposits gloss-enhancing ingredients onto your strands without dramatically altering your shade.
Clear Hair Glaze
Believe it, babe – carefully clearing hair of buildup boosts beautiful, bouncy brightness better than anything! A colored gloss or hair glaze provides instant shine between color treatments.
Prep hair by clarifying buildup first
Apply evenly, from roots to ends
Process for 5-20 minutes depending on desired intensity
Rinse thoroughly, style as usual
Now you've got the inside scoop on glazing up those gorgeous strands, doll! Rock that sleek, shiny mane!
Colored Gloss
You'll love how Redken Shades EQ adds shine without affecting your color. It's the secret to maintaining glossy highlights. For vibrant, long-lasting color, follow these maintenance tips. Use a gloss-inducing conditioner to enhance vibrancy and prevent fading.
Between salon visits, DIY gloss treatments keep your hair looking radiant. Explore gloss-boosting products like clear hair glazes to maintain that coveted shine.
Maintain Shine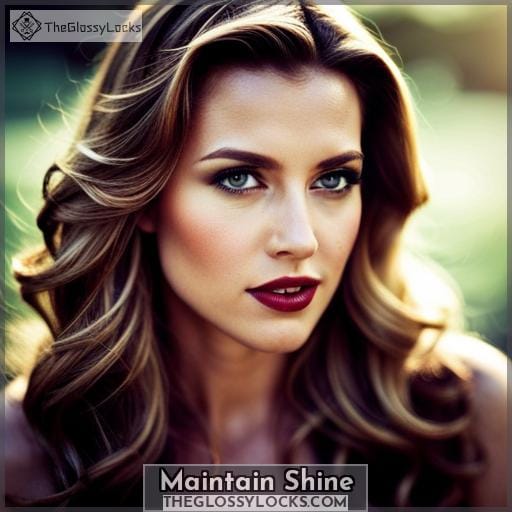 Maintaining the glossy allure of your hair requires diligent care and attention. To achieve this, regular trims and limiting heat styling practices are your essential allies in the pursuit of long-lasting shine.
Regular Trims
To maintain that lustrous shine, ensure you keep up with regular trims to prevent split ends and breakage. The benefits of trimming extend beyond aesthetics; they play a crucial role in the health and shine of your hair.
Frequent salon visits, typically every 6-8 weeks, are your secret weapon. By doing so, you'll prevent those pesky split ends from creeping up and causing damage. The styling impact is remarkable; your hair will be more manageable and hold styles better.
Limit Heat Styling
Limiting the use of hot styling tools can help you retain your hair's natural shine, as excessive heat can lead to damage and a loss of luster over time. Embrace air drying whenever possible; it's a gentle way to keep your hair healthy and glossy.
When heat styling is necessary, apply a quality heat protectant to shield your locks. Consider protective styles that minimize daily styling. Also, nourish your hair from within with hydrating foods and maintain colored gloss with the right products.
Conclusion
To achieve the lustrous, glossy locks you've always coveted, follow these ten expert tips.
Begin by clarifying buildup with a reliable clarifying shampoo, ensuring a clean slate for shine.
Hydrate your hair using deep conditioning masks and leave-in conditioners, providing the nourishment it craves.
Shield your color with sulfate-free shampoo and stimulate your scalp with nourishing oils and gentle exfoliation.
Style wisely by air-drying when possible and using thermal protectants for heat styling.
Prep your hair with pomades and serums, and sleep on a satin pillowcase.
Enhance your shine from within by consuming foods rich in Vitamin E, and finally, maintain your shine through regular trims and limiting heat styling.
Glossy hair is within your reach – follow these tips and let your locks shine brightly!