This site is supported by our readers. We may earn a commission, at no cost to you, if you purchase through links.
A quality body wash can help your skin maintain moisture, shield it from environmental contaminants, and keep it clean and clear of grime and bacteria.
A quality body wash can also leave your skin feeling soft and smooth and lessen body odor. Choosing the best body wash for you can be challenging with so many options available.
In this post, we'll talk about how important it is to choose the best body wash for men and give a general review of the various kinds of body washes on the market.
Things To Consider For Purchasing The Best Men's Body Wash
Every man's needs are different when caring for men, and choosing the right products for you: such as a body wash or gel: requires more than just the first container of suits you see lying on the shelf.
Here are some things to keep in mind for getting the right body wash:
Type Of Body Wash
There are three basic body washes: shower gel, moisturizing, and exfoliating washes.
Shower gel: shower gels are designed for use on the skin because they have a lower detergent level than shampoo. They do an excellent job of removing dirt and deposits from the surface.
Moisturizing body wash: this type of body wash has a creamy texture than shower gel. They contain higher levels of oil and petroleum, making them excellent for hydration.
Exfoliating body cleansing: Usually more exfoliating than other body cleansing types, exfoliating washes help remove dead skin cells while your skin stays supple.
Skin Type
The body wash should be helpful for your skin type:
For sensitive skin, look for a body washes with moisturizing creams. Also, choose a body wash that is free of fragrances and colorants. Glycerine is an ingredient found in many liquids, gels, and soaps and helps keep moisture in your skin.
If you have dry skin, avoid aggressive cleansers and look for a product that moisturizes more. Shea butter, an excellent moisturizer, can be found in many body treatments. Creamy formulas are also generally more hydrating than other types.
If you suffer from acne or other skin conditions, look for a body washes with exfoliating properties that remove dead skin cells while the pores remain open. Tea tree oil is also a valuable ingredient because it helps reduce inflammation.
Ingredients
It is always important to become familiar with the components of each product that you purchase. All-natural ingredients are almost always better, and body treatments and gels are no exceptions.
Look for body washes with moisturizing ingredients, especially if you have dry skin.
Avoid harmful chemicals such as sodium lauryl sulfate and ammonium lauryl sulfate, irritating the eyes but are also tricky for the scalp and hair follicles. Alpha Olefin Sulfonate, also known as AOS, Sodium C14-16, and Olefin Sulfate, contains small amounts of benzene toxin. In the meantime, DEA ingredients such as Cocamide-DEA are carcinogenic, putting users at risk for cancer.
15 Best Body Washes For Men All Skin Type Of 2023
In this post, I am going to give you the real deal about the best body wash for men, just like in the past, with this post about the best men's face scrub to change your skin forever.
Moreover, I will break it all off according to your skin, meaning you have suggestions for normal, dry, combo, and oily types. Believe it or not, the kind of body wash you use has a significant impact on how your skin looks and feels.
There are even benefits against aging if you use the right product.
1. 18.21 Man-Made 3-in-1 Body Wash, Shampoo, Conditioner for Men

View On Amazon
You have or have not heard of 18.21 made by man. If not, then it is a company that is worth a look.
Located in Texas, 18.21 is a small company that produces high-quality care products that agents will be proud of; its three founders desire to offer nostalgic and modern care techniques, and all their products are made with an aroma of sweet tobacco.
They also developed the best body wash for men. This product is inspired by the look and feel of fine whiskey; They are cleaned free of parabens and infused with macadamia, quinoa, and jojoba to bind moisture to your skin and, at the same time, provide an attractive shine that lingers all day long.
Also, your skin will feel hydrated but not greasy, as with other body washes that claim to have moisturizing properties.
The 18.21 Manmade Wash is versatile and available as a body wash, shampoo, and conditioner. It is one of the most effective products for men for multiple purposes. And no matter how you use it, you will enjoy its creamy, full foam (it is also suitable for all skin and hair types).
The 18.21 contains the characteristic scent of sweet pipe tobacco – but not in an overwhelming way – and hints of vanilla, tonka bean, spiced saffron, and dried fruit.
Versatile all-in-one wash
Moisturizing
Unique scent
It takes longer to rinse than some washes.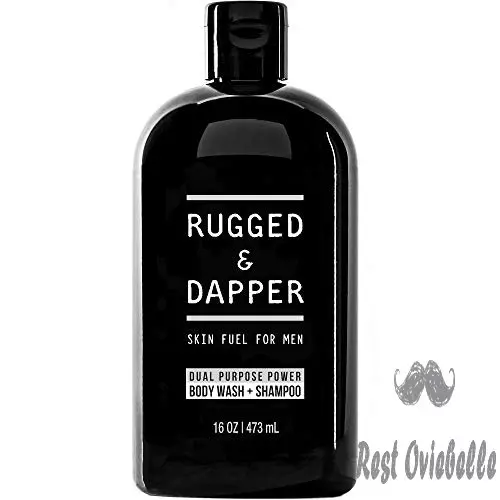 This dual-use body washes from Rugged & Dapper can be used on your body and hair.
In the first place, all-natural ingredients (although some chemical ingredients are added) give you a relatively healthy and clean wash that is not found in most major body treatments on the market.
For starters, some of the oils you'll find in this body wash are rosehip, tea tree, and orange peel. Generally, this is a masculine fragrant body wash, just like the cedar wood offered by Every Man Jack, which should provide sufficient nutrients and moisture throughout the day.
A few other distinctive features that distinguish this body wash is that it is free of parabens, animal abuse, vegan, and has no artificial fragrance or perfume.
If you're looking for a relative newcomer in the men's section that's primarily natural, this full body wash is worth a try.
Although the foam of a body wash is not bad for some men, it is for others. If you fall into the latter group, you don't have to worry about suds with the Rugged and Dapper Shampoo and Body Wash because it creates a creamy foam that ensures freshness.
We also appreciate the masculine scent of the RandD wash that lasts all day. Nobody likes being less fresh halfway through a long working day.
Suitable for all skin and hair types
Excellent foam
Multifunctional product
Some reviewers say that the shampoo does not meet the conditioner.
3. Oleavine Antifungal Soap With Tea Tree And Neem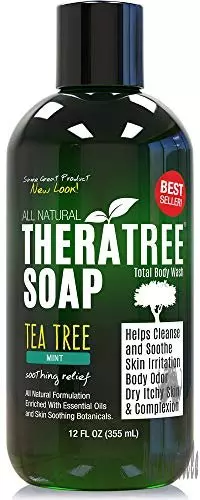 View On Amazon
A
long-held belief says that men sweat more than women.
Although gender is not the only factor that determines how much a person sweats, you get the picture if you are a man.
We are sweating. And as a result, we sometimes stink.
Olginens all-natural body wash is mild enough for everyday use but is active as an ox when dealing with body odor (including foot odor).
First, it is packed with essential oils of aromatherapy that stink and with skin problems and problems such as acne and blemishes. They are oils that have been used for centuries to fight against body odor.
Oleavine's body wash is made with organic and natural ingredients and is ideal for dry, inflamed skin thanks to healthy plants rich in moisturizing creams. You would find it difficult to find a better body wash for dry skin.
Something else: this stuff contains antibacterial extracts such as neem oil that not only protects against odor but also against things like itching, athlete's foot, ringworm, and toenail fungus. (Have you ever had itching? Then you would grab a bottle of uranium if you thought it would alleviate the problem).
Olivine hand-harvests its products in small batches to maintain optimum quality while using a steam-distilled process that gets the most out of its active organic components.
Fights odor
Antifungal
Excellent for dry skin
Organic and natural ingredients
The liquid is slightly liquid.
4. Everyone 3-in-1 Soap for Man
View On Amazon
This three-in-one men's shampoo is one of the best body washes for men we have ever seen.
What distinguishes this from the rest is that it is a body wash and works well as a shampoo and shaving gel!
Even though it never meets the best shaving creams we've reviewed recently, you should get a reasonable amount of foam for a relatively soft shaving result while in the shower.
Regarding the ingredient compound of all-natural men's body wash, the manufacturer relies on essential oils to deliver the fragrance, and that's good. Essential oils in this product are cedar, lavender, and orange. What is more, is that it should not be overbearing and will probably disappear mainly in the morning.
It cleans with natural ingredients, making this product feel comfortable on the skin, making you feel clean, soft, and strengthened.
By using essential oils, this product smells fantastic. It is available in two scents: Cedar and Citrus, a potent masculine scent, and Cucumber and Lemon for those who prefer a milder scent.
Both products work great, and we are proud parabens and polysorbate-free. This all-natural shampoo is perfect for saving time in the shower, making you feel energetic, alert, and above all, clean.
Shave, shampoo, and shower confidently with this all-in-one powerhouse of a product.
The versatility is unrivaled
Perfect body wash for men with a limited budget
Gluten-free and without cruelty
It does not generate good foam
5. American Crew Deodorant Body Wash
View On Amazon
Many men are familiar with the American Crew hair products, given that they are located in hairdressing salons throughout the country.
In addition to hair styling, they also make pre-shave oils to ensure a much more comfortable shave, which we recently reviewed. This body wash offers an excellent addition to the latest edition of their line-up.
The American Crew body wash is specifically focused on your body and is designed to work to eliminate body odor. Easy to cover with heavy scents.
With a mixture of synthetic ingredients and natural oils, the first cleaner comes from raw vegetables. American Crew generally classifies the scent as fresh and clean.
Finally, this product is made in the USA.

Made in the USA
A designer-made body wash that smells great
Great for men with body odor
6. Puracy Natural Body Wash
Just like 18.21, made by humans, Puracy is a newly emerging company from the Lone Star State. Their all-natural body washes for men with Citrus and Sea Salt fragrance works with every skin type (and is excellent for men and women). Still, it is beneficial for sensitive skin because it does not contain sulfates that foam.
Instead, you get a completely natural formula that does not contain artificial fragrances, dyes, parabens, or phosphates that harm the pH balance of your skin.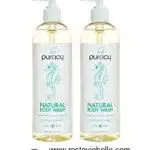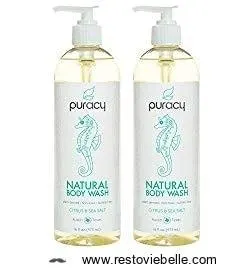 View On Amazon
In short, it is the best body wash for sensitive skin.
Again, you would be a wash(or, in this case, gel) made by Ph.D. chemists, which is the case with Puracy Natural Body Wash is skin-friendly. One of the essential ingredients is pink Himalayan sea salt, which naturally hydrates, balances, and exfoliates all skin types.
Another essential ingredient in Puracy's Natural Body Wash is Coco Glycinate. This coconut-based surfactant produces a lot of foam without disturbing the pH balance of the outer layer of the skin. Disturbing this layer leads to dehydration, redness, and irritation that can cause men with sensitive skin to soak. And if you suffer from eczema or dermatitis, this washes for you.
Puracy is adamant about making its products with plant-based ingredients that have never been tested on animals. Their Natural Body Wash has even been declared cruelty by PETA.
You will also enjoy the foam – a rich, luxurious foam not made with chemicals.
Great for sensitive skin
Natural ingredients
Produces a rich foam
A bit liquid and thin compared to other body washes
7. Hose Off Body Wash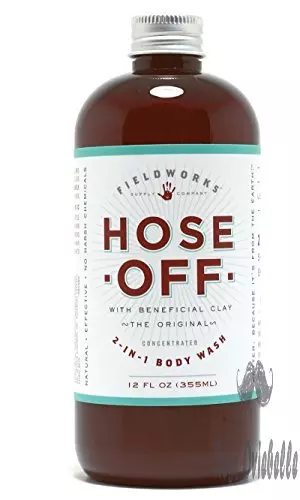 View On Amazon
This unisex-scented, all-natural body wash for men and women will serve you and another source to be a perfect day-in, day-out. With its concentrated, but natural formula of essential oils, you both smell fresh to their patented velvet fragrance when using this body wash.
Even though the bottle's design may look like an amber glass bottle, similar to what you might find when making your beard oil, you can be sure it is made of plastic to prevent damage if Falls the bottle is with a shower.
This all-natural body washes for men and women contains both shea butter and aloe vera for maximum hydration and nourishment of your skin. So if you suffer from dehydration and flakes on your skin, this washing can be perfect for you.
Finally, you will find bentonite clay that thoroughly washes dirt and contaminants away from your skin when thoroughly rubbed with a sponge or loofah. It also doubles as an effective shampoo!
Handmade in Portland, Oregon
Unisex makes it perfect for sharing
Great faith in natural ingredients
May irritate sensitive skin men
8. Molton Brown Body Wash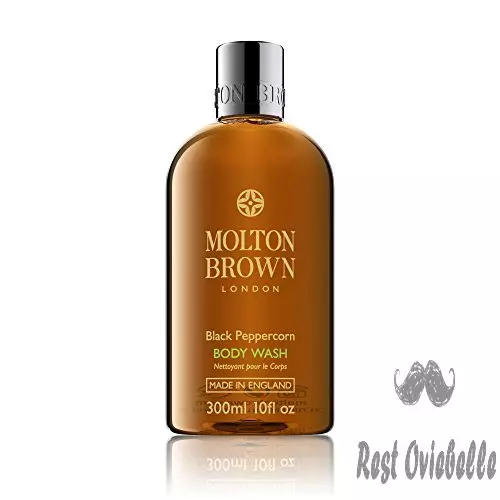 View On Amazon
Molton Brown of London makes products of high quality. Yes, you pay a bit more, but especially in the case of the Black Peppercorn Body Wash (formerly known as Re-charge Black Pepper), you get a product that rises above the rest.
The Black Peppercorn Wash is a winner with multiple awards, a strong salesperson on Amazon, and perhaps the most popular bath and shower gel from Molton Brown. And it does a lot, including:
It provides a deep cleansing that eliminates skin toxins and other impurities.
It is bold, spicy, and prizing enough to calm rough skin.
The smell is excellent, and the people at Molton Brown say the smell evokes the smell of hot desert sand and a spicy breeze. It is mixed with Madagascan black peppercorn oil (which offers protection against oxidation), coriander, and basil. Yes, it is warm and tasty, but not unpleasant.
The detoxifying black pepper oil stimulates blood circulation and relaxes the muscles, making them ideal for post-exercise or other activities. But it works just as well to get your day on a high RPM start.
You can get the same wash in different scents, which many women find just as satisfying. It offers a nice unisex shower date when the mood strikes.
The amber gel forms a soft foam – not a cloud of soap, mind you, but just the right amount you need.
The primary ingredients, pepper seed oil and glycerin, act as astringent and moisturizing agents. Both are great for your skins
Great product from a company known for the quality of its bath and shower gels
Black pepper oil relaxes muscles and stimulates blood circulation
The smell is unique and stimulating
Great for your skin
More expensive than other gels and washes
9. Burt's Bees Body Wash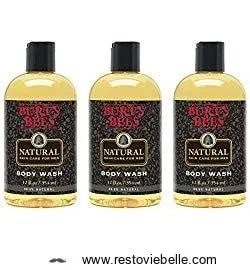 View On Amazon
Primarily known for their lip balms, Burt's Bees sets off in the men's care world with this body wash designed specifically for men in mind. Although it can only be exclusive for washing the body, this wash is made from 99.9% natural ingredients.
One of the critical ingredients of the ingredient list for this body wash is coconut oil, which can provide abundant health benefits for your skin and well-being.
The smell of this body wash is primarily considered a woody profile, followed by many bright citrus-like notes.
This is a significant body wash to try out, mainly if you depend on Burt's Bees balms for those dry winters or desert summers.
99.9% Natural
The woody scent smells great
A trusted brand that will deliver great results
Some people think the foam is missing a bit
10. Old Spice Fresher Collection Men's Body Wash, Denali Scent
You have to hand it over to the people of Old Spice – they certainly did their research before they launched their Fresher Collection a few years ago.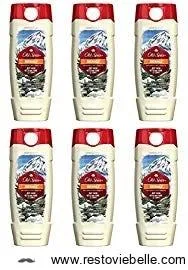 View On Amazon
Old Spice teamed up with a leading neuroscience research firm to see if the Fresher Collection's fragrance could calm the mind and body since the outdoor life (and the delicious scents) have the reputation to do. And yes, science has supported them.
The result was the introduction of five scents, Denali, Amber, Citron, Fiji, and Timber, which help to make a man smell great. Denali, named after the highest mountain in America, is a different smell than any other and makes Old Spice's Body Wash the best-smelling body wash that lasts all day.
Old Spice is hardly new in the men's grooming game. For a long time, they have had high-quality products for men – perfume, deodorant, aftershave, etc. Their distinctive odor is distinctive, and many men love it.
Denali maintains some of Spice'sce's original spiciness but with a hint of spruce trees – like climbing up a mountain – and the scent of a snow-covered treetop. It is big and daring but also crunchy and masculine. You do not want to leave the shower after cleaning yourself with this washYou'll
Unique, masculine scent
Combats scent
Lather nicely
The smell is too pine-like for some
Body Wash Vs. Bar Soap
There are not many options to cleanse your body.
Bar, so that's an eternity and a day, and a wash on the body did not stay on showers until well into the 20th century. Could you also find a good rain shower or the nearest river, but you still need a soap product to clean.
Nowadays, body washes and bar soap have a very similar (and extended) part of the cake in the market for care products. Many people have switched to body wash over the past decades, and whether that trend continues remains to be seen.
But is a body wash better than soap? Or vice versa?
It is a fact that both are effective, but different types of products achieve the same goal of general cleanliness.
Body Wash
Positives
Although body wash is generally more expensive than soap, it offers even more benefits for the skin in most cases. Newer rolls have a lower pH balance and contain skin conditioners that simultaneously hydrate and cleanse your skin.
Many body washes and shower gels also contain ingredients that exfoliate the skin, i.e., remove dead cells from the top layer of your skin.
Negatives
There is more waste with body wash than with soap. You know how much foam you get with soap. With a body wash, however, it is not always easy to determine how much to do with your cloth or loofah.
Bar Soap
Positives
Bar soaps will A) save you money and B) will probably last longer than body wash. However, that is not always the case.
There are other benefits to exclude, including the fact that most soaps now contain glycerin – an excellent moisturizer. That is important because soap often gets a bad rap for drying skin.
There are also a lot of cleansers that do not contain fragrances – which was a lot – which is good news for people with specific skin allergies.
Negatives
Bar soap has a higher pH than liquid soap, which means that some (not all) dry out more on the skin. It is true that many strong bar soaps are too many for many people and can remove essential oils while your skin remains irritated.
How To Apply The Best Body Wash For Men?
If you read this and think (I know how to apply body wash), chances are that you are wrong. Most men waste half their product by not using it properly. Follow these quick steps to ensure that you don't send money directly down the drain.
1. Enter your palm
Don't pour a mountain in your hand. That is the first way to lose money and not get the full effect out of your body wash. Place a blob the size of a coin on your palm. You do not want this drain when you do the next step.
2. The right way
If you rub your hands together and shoot a bunch of foam just off the middle of your hands, you are doing it wrong. Keep your hands together until foam comes between your fingers; that is when you know that you have done well—time to apply.
3. Application
You may not want one, but you should consider buying a tool such as a sponge or a loofah. Using body wash will dig deep into your skin and remove all dirt and oil, but it won't hit every area without help. The best ways to apply the best men's body wash are:
Sponges: large onion sponges meant for bathing are best for this. The sponge gently scrubs your skin and helps easily remove all dirt and compiled oils from your pores. It gives you more reach over difficult areas, such as your back and behind your neck, where your hands just don't cut it.
Loofahs: Like sponges, loofahs are great for getting those hard-to-reach areas nice and clean, especially the height of your back, and you're next. With loofahs, you want to ensure that they are well-dried and do not contain bacteria.
Washcloths: With slightly less reach than our other options, washcloths are probably the best tool to cleanse your body correctly. Bonus: they donate bacteria build-up as quickly as they dry — less reach, more powerful scrub.
Conclusion
Finally, choosing the best body wash for men can significantly alter how your skin feels and appears. Given the variety of body washes on the marketit's's critical to take your skin and hair types, as well as your tastes, into account when selecting a body wash.
When choosing a body wash, remember that natural ingredients, scent, and cruelty-free are all critical considerations. You can keep your skin healthy and looking its best with the correct body wash. We hope that this information has aided you in your search for the ideal body wash.
References
toolsofmen.com
baldingbeards.com
gearhungry.com